How to Identify Antique Folding Chairs
The folding chair was popular in the 1870s and George Hunzinger gets credit for being the folding chair wizard of that era, according to Antiques and the Arts website. He had six patents for chair designs by 1876 despite having only been in the United States since 1855 after emigrating from Germany to New York. Hunzinger held 21 patents for furniture designs when he died in 1898, and many of these were for folding chairs. The most famous folding chair has a diagonal brace, patented in 1869 by Hunzinger.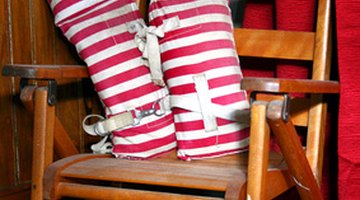 Step 1
Study the types of folding chairs available before 1910 and the Art Deco era. There are three basic types of folding chairs, reports the Rare Victorian website. These types include the sling chair with a single piece of fabric draped like a hammock, the side chair (which folds the back onto the seat), and the "x" chair, which, when folded, joins the two sides together. Any chair is one of these three styles may be an antique.
Step 2
Compare the folding chair with styles of the era. Some folding chairs are Modern Gothic or Eastlake style with straight lines and incised hand-cut designs. Victorian style often includes velvet and braid, and even folding chairs of that era had style elements that incorporated fabrics. Hunzinger's patent in 1876 was for a wire and fabric construction, Flomaton Antiques Auction website explains. These chairs served as substitutes for the upholstered furniture of the era.
Step 3
Turn the chair over and look for a maker's mark or patent date. Hunzinger was not the only maker of folding chairs in the 19th century, but more identifiable examples of his work exist than of other makers. Internet Antique Gazette reports that many of his chairs have an incised stamp on the brace or back of a leg with the patent date and location of manufacture.
Step 4
Identify the wood and check the construction. Most antique folding chairs were made of maple or walnut, reports the Flomaton website. Construction was done with hand tools available at the time. Typical work of the era will feature hand tooling, and mortise and tenon or tongue and groove construction.
Step 5
Anticipate and expect reproductions and imitations. There are many reproduction imports from India and China, and, originally, most do not "look" old. However, after a few years, they will. These folding chairs do not have the structure of antique folding chairs, are not the same quality or kind of wood, and do not have the attention to detail seen in antique chairs. Old folding chairs have wear on the legs and often on the seat. The fabric may smell old and have some fading. Use all of your senses to identify an antique folding chair.
References
Writer Bio
Linda Richard has been a legal writer and antiques appraiser for more than 25 years, and has been writing online for more than 12 years. Richard holds a bachelor's degree in English and business administration. She has operated a small business for more than 20 years. She and her husband enjoy remodeling old houses and are currently working on a 1970s home.
Photo Credits
More Articles