What Is the Definition of a Bombay Chest?
Bombe chests, or bombay chests, stood in every fashionable Parisian home in the mid-1700s, with some exported to discerning European consumers as well. These French chests of drawers have a distinctive curvy or bowed shape and are often embellished with handpainted designs, such as flowers, birds or Asian motifs. Natural burl and other wood-grain veneers also added artistic elements to the furniture. A bombay chest is at home today in an entryway or hall, as a nightstand or as an elegant accent piece in any room.
Name and Meaning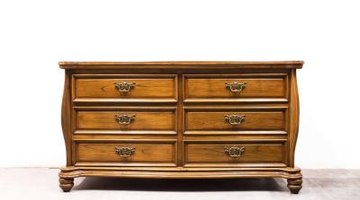 "Bombe" is a French term for any rounded or convex piece of furniture. The word "bombe" means, literally, ''bomb-shaped,'' ''bulging'' or ''curving outward.'' While this styling is popular for bureaus and commodes, it also can be used as a base component for larger pieces. The term "bombe" is sometimes spelled "bombay" when describing a chest of drawers, but it does not refer to Bombay, India, the city now called Mumbai.
Origin and Development
Bombe chests originated during the French Regency period, after King Louis XIV died in 1715. French cabinetmakers began to abandon the rich styling of the Palace of Versailles furniture that had been commissioned by Louis XIV, and they created new pieces that were more casual and comfortable in comparison. Many of these pieces had graceful round or bowed shapes with surface marquetry, inlay, painted or carved designs.
A Signature Piece
The French Regency's signature piece of furniture was the bombe chest, also called a bombe commode. It curved outward on the front and both sides in a decidedly feminine manner and had two or three large drawers. Bombe chests were often lacquered with chinoiserie, or Chinese-inspired designs, such as flowers, exotic birds, dragons and tigers never before seen on European furniture.
Eighteenth Century Favorite
By the time young Louis XV began ruling France in 1743, the bombay chest was already in vogue. The bombay was a favorite furniture piece of King Louis XV and his mistress, Madame de Pompadour. The pieces displayed in French homes during this period featured a laborious, multi-layered lacquer technique in deep reds, blacks, blues and golds, often with silver leaf or gold leaf ornamentation and inlaid designs of exotic wood, mother of pearl or ivory.
Contemporary Chests
Today's versions of bombay chests come in a wide variety of styles and finishes. Modern and contemporary interpretations may have a more streamlined shape and finishes in a range of colors or wood tones. While bombay chests may still be lacquered over inlaid or colorfully painted details, manufacturers use newer paint formulas, finishing materials and techniques. Modern carved designs are likely to be embossed rather than hand-carved.
References
French Furniture of the Eighteenth Century; Pierre Verlet
Photo Credits
thegiffary/iStock/Getty Images
More Articles