Dining Room Sets of the 1920s
Houses in the 1920s were modest homes with one or two stories. The rooms were small, with the living room being the most spacious in the home and the one reserved for entertaining company. Kitchens and dining rooms were the most utilized and lived-in rooms of the home, and the furniture in these rooms was simple but elegant in design. Most dining room sets of this era consisted of eight pieces: six chairs, a table and a buffet.
Queen Anne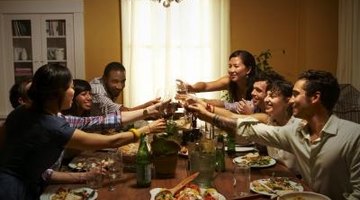 Even though the Queen Anne era extended from 1720 to 1750, furniture from this time frame was so classic in style that it continued to be popular in the 1920s. The dining table was made from cherry, oak or walnut with a single pedestal, double pedestal or standard legs. Chairs traditionally had cloth seats, and their cabriole legs were graceful and curving in form. The buffet usually had a carved scalloped seashell on its face.
Art Deco & Art Moderne
The 1920s were the height of the Art Deco and Art Moderne movements, and dining room furniture became highly stylized with strong geometric symmetry. Woods were exotic, from mahogany to Madagascar ebony to walnut burl. As dinner parties gained in popularity, the dining room became a focal point. Dining room sets often had as many as eleven pieces consisting of eight chairs, a table with extensions, a buffet and a dessert table.
Georgian & Colonial
As housing standards increased during the 1920s, so did the quality of the interior decor. Owners of more affluent homes placed great emphasis on crown molding, wainscotting and toile patterned wallpaper to dress their dining rooms. By contrast, the furniture was prized for its elegant simplicity and fine woods. The table had a cut corner edge and was made from walnut or mahogany. There were usually six chairs; four of them were side chairs with no arms, while two were arm chairs. All had seats of fabric, either velour or tapestry.
Arts & Crafts
Unlike the other furniture styles of the day, which borrowed from European classics, the Arts & Crafts movement was distinctly American. Most of the furniture in this style was made from oak, with an emphasis on the wood grain. The emphasis was on strong, elegant lines with mortise and tenon joints.
References
Writer Bio
Becky Lower began writing professionally in 2004. Her work has appeared in "elan" magazine, a northern Virginia publication, "Good Old Days" magazine, the "BGSU Alumni" magazine and on the website thenovelette.com. Lower has a Bachelor of Arts in journalism and English from Bowling Green State University.
Photo Credits
Thomas Northcut/Lifesize/Getty Images
More Articles