List of North Carolina Furniture Manufacturers
At the turn of the twentieth century, the furniture industry began to take root in the state of North Carolina. Many of the world's major manufacturers have called the state home since their inception. Companies like Thomasville, Henredon, Drexel Heritage and Broyhill were all founded in North Carolina. These and many other furniture manufacturers bring millions of dollars of revenue as well as jobs to a state known as the Furniture Capital of the World.
Thomasville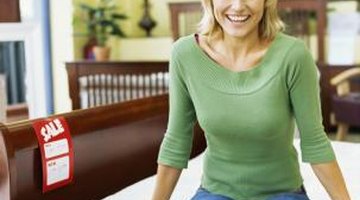 Established in Thomasville, North Carolina, in 1904, the company was responsible for one product in its early years, the very popular Thomasville chair. The company received its wood supply from the Finch brothers, who were paid in the company's stock. The brothers amassed so much Thomasville stock, they eventually bought out the other stockholders and staked an ownership of the furniture company. The headquarters of the company are still located in Thomasville. The company is world renowned for its classic and contemporary designs for all tastes and price ranges.
Thomasville of Raleigh 10200 Little Brier Creek Lane Raleigh, NC 27617 (919) 806-3406 thomasville.com
Henredon
Henredon was founded in Morganton, North Carolina, in 1945. Its four original craftsmen intended to build furniture with a distinct custom flare, which is a mandate that has continued even in the face of technological advancements. The first productions of Henredon consisted of three chests. Throughout the generations Henredon has continued to evolve, creating suites for every room in the home.
Henredon of Raleigh/Drexel Heritage 10200 Little Brier Creek Lane Raleigh, NC 27617 800-444-3682 henredon.com
Broyhill
Thomas H. Broyhill became the chief owner of the Lenoir Furniture Company in 1919 in Lenoir, North Carolina. The Lenoir Furniture Company focused its productions on a line of dining room and bedroom furniture. In 1926, Broyhill's brother, James Edgar, founded the Lenoir Chair Company, introducing the world to Broyhill upholstery. The company experienced a boom at the end of World War II, coinciding with the housing boom of the same period. Broyhill is now well known for its soft and supple leather recliners.
Broyhill Furniture Factory Outlet 4930 Hickory Boulevard Granite Falls, NC 28630 800-327-6944 broyhillfurniture.com
Drexel Heritage
Similar to Broyhill, Henredon and Thomasville, Drexel Enterprises benefited from the abundance of timber (like poplar, chestnut and oak) and a cheap labor force in North Carolina. Shortly after its founding in 1903, Drexel released its first product, a three piece bedroom suite completely made of oak, at a wholesale price of $14.50. Deciding not to close its plants during WWII, Drexel produced furniture for the Army, including a custom-made desk for General Douglas MacArthur. In 1974, the Heritage Furniture Company, founded by Elliot Wood in 1932, became Drexel Heritage. Today Drexel Heritage employs more than 1,300 people who craft a variety of pieces for the dining room, living room and bedroom.
Drexel Heritage 401 E. Main Street Thomasville, NC 27360 866-450-3434 drexelheritage.com
References
Writer Bio
Everett McCarty is an aspiring novelist, an accomplished traveler and a restless seeker. He has been writing fiction and poetry for 16 years. Everett has enjoyed the Demand experience and relishes the challenge of each contribution.
Photo Credits
George Doyle/Stockbyte/Getty Images
More Articles