How to Spot Heywood-Wakefield Furniture
The Heywood-Wakefield furniture company, founded in 1826, made auditorium and theater seating, wicker and rattan, as well as wheat-colored furniture for schools, homes and businesses.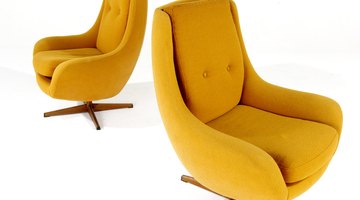 Until 1979, the company produced oak mission-style furniture, Colonial and early American maple furniture, but it garnered a name for itself with its Mid-Century Modern lines.
South Beach and Heywood-Wakefield
The South Beach Furniture Company -- founded in 1984 and located in the Art Deco district of South Beach in Miami, Florida -- was in the business of finding or restoring vintage furniture pieces for its customers. The South Beach Furniture Company owner noticed that every time he acquired light-colored, solid-wood Mid-Century Modern furniture, he couldn't keep it in the store. As supplies of vintage furniture sources began to dry up or become cost-prohibitive, he saw a marketing niche a furniture manufacturing company could fill. When he discovered that the Heywood-Wakefield company, which made the furniture his customers sought, was in bankruptcy, he bought the firm with his partner.
Eagle Hallmark
The majority of furniture the company made included its signature hallmark: a black eagle with spread wings and its beak turned to the left with its name emblazoned atop the eagle. Look for the hallmark on furniture backs, support bars or on the backs of tabletops. When you hunt hard enough, you can still find some of the company's original early American, wicker, rattan and Colonial furniture for sale in thrift stores or at online auction sites, but the majority of used Heywood-Wakefield furniture available consists of its Mid-Century modern line.
Mid-Century Modern
The furniture's characteristics includes all of the features found in Mid-Century Modern styles: slim tapered legs angled out beneath tables, chairs and couches, along with organic curves and geometric shapes. The company makes cocktail tables, dining and bedroom furniture, mirrors, bar stools and more. For its upholstered furniture, the company uses high-quality woven fabrics made in Europe and the United States that resonate with the patterns and fabrics the original company used during the 1940s and '50s.
Solid Yellow Birch Wood
The Heywood-Wakefield company continues to make its Mid-Century Modern furniture from Northern yellow birch wood, but nowadays selects higher quality woods than the company originally used. The furniture it makes currently requires a lighter colored finish, making grain selection an important part of the process – right at the sawmill. The furniture is 100 percent American made from sustainable lumber harvested from New Hampshire farms. These farms plant two trees for every tree harvested.
High Quality Craftsmanship
Heywood-Wakefield furniture uses solid woods and hardwood construction in its furniture and upholstered goods, except on the backs of bookcases or inside drawer dividers. In keeping with the company's vintage look, upholstered furniture is made with hand-tied coil springs, and one line contains inner springs inside the cushions. The company avows the use of sinuous or no-sag springs in its product lines. Solid wood products have a hand-rubbed amber finish, as opposed to the wheat and champagne finishes used by the original company.
References
Resources
Writer Bio
As a native Californian, artist, journalist and published author, Laurie Brenner began writing professionally in 1975. She has written for newspapers, magazines, online publications and sites. Brenner graduated from San Diego's Coleman College.
Photo Credits
Lynnette Mager wynn/Hemera/Getty Images
Lynnette Mager wynn/Hemera/Getty Images
More Articles