History of Contemporary Furniture Design
Table of Contents
Furniture in the 20th century sharply moved from ornate, complicated designs furniture toward sleek, modern styles. Influences on designers in this period ranged from the 19th century Arts and Crafts Movement to De Stijl architecture to Shaker furniture.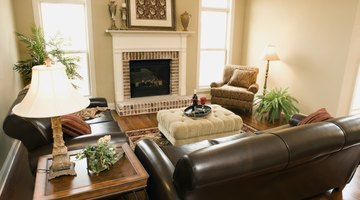 Increasingly, fiberglass and plywood were used following World War II.
International Style
Peaking in the 1940s and 1950s, the International Style marked a movement toward greater simplicity and clarity. Though the movement touched on the visual arts and architecture, its most famous practitioner is probably Ludwig Miles van der Rohe, who designed the Barcelona chair, the Brno Chair and the Tugendhat chair. Closely associated with the Bauhaus School of Art and Design in Germany, the International Style would later be criticized as being "too serious" and "basic," although it still remains dominant.
Danish Modern
Linked to the traditional furniture of Scandinavian designers, the Danish Modern movement took shape in the 1960s and 1970s. Some of the movement's characteristics were designs that drew on organic, flowing shapes and natural materials. Its moment of ascendancy was the 1939 World's Fair, and subsequently furniture in this style became widely available. Few major artists are associated with this movement; its importance relies more on popular appeal. Today, designers draw heavily from any of its precepts, including its organic patterns.
Memphis Group
In the 1980s, the Memphis Group responded against what they perceived to be a lack of humor in contemporary design. Though originally called the "New International Style" by founder Ettore Sottsass, the group of designers took its more established name from Bob Dylan's classic song "Stuck Inside of Mobile with the Memphis Blues Again." Their work is characterized by colorful, vibrant themes and inspiration from the Art Deco movement. Some of the group's members included Martine Bedin, Nathalie du Pasquier, George Sowden and Andrea Branzi.
Ecodesign
Furniture designers have also responded to a number of contemporary ideas and concerns, including the environmental movement. Less a movement than a group with similar concerns, the Ecodesign participants are concerned with reducing emissions, consumed resources and waste. Some of the innovative designers associated with the Ecodesign movement are Alexander Julian, Thom Filicia and Alessandro Mendini.
Casual Contemporary
Since the 1990s, furniture design has moved to become personalized and less unified, with Casual Contemporary becoming the major choice for designers. It draws its influences from Danish Modern, as well as traditional Shaker designs. This popular movement is based on flexibility, oversized proportions and relaxed elegance.
References
Writer Bio
John Yargo is a sports writer, living in Orlando, Fla. His work regularly appears in the "Jackson Free Press," and he has published articles on theater, fiction and art history. He has also received a master's degree in English.
Photo Credits
Thinkstock Images/Comstock/Getty Images
Thinkstock Images/Comstock/Getty Images
More Articles