How to Decorate a Home From the Early 1900s
The beginning of the 1900s saw the death of Queen Victoria and the beginning of industrialization, both of which had a direct impact on the decor and interior design of homes in both Europe and the United States.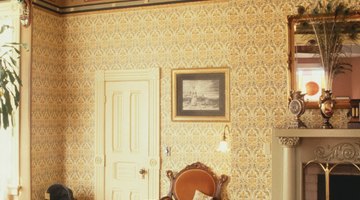 Tip
Both styles use soft, indirect lighting to chase away shadows and create a warm glow within the color schemes. Add some shine in a Victorian home with gold or bright silver accents. Use bronze or beaten copper for a softer glow in a Colonial home.
Some homes were built after the Victorian style, elaborate and feminine, while a newer house style, the Colonial, favored a more straight-forward and practical design. Learn how to decorate your early 1900s home with authentic-looking pieces that match the style and mood of each room.
Asses the style of your home. Homes made with decorative siding, turrets and gingerbread house-like elements are the traditional mainstays of a Victorian home. Colonial or Cape Cods were the opposite: big, box like structures with many windows and a plain front. Decide which type of style your home falls under.

Capitalize on the interior. Traditional Colonial homes had exposed rafters and beams that gave rooms a rustic appearance. Victorian homes were more finished, often having papered walls and smaller rooms. Look at the interior design of each room and make a note of what elements you want to highlight.

Pick a color scheme. Victorian colors were all about rich coloring combined with ivory undertones. Deep green, red and gold were used frequently in decor. Traditional Colonial decor based much of its color scheme on warm and soft colors such as deep brown, soft taupe and muted green. Find two or three colors that coordinate for your chosen style.

Add antique furniture. Queen Victoria was a proponent of refined elegance and feminine details. Chairs with carved legs and backs and sofas made of rich cloth such as velvet or silk look elegant in a Victorian home. Straight-backed chairs, angular or flat tables or stools were common in Colonials. This Mission style sought to distance itself from the ornate and elaborate decor of Victorian embellishments. Choose a style that matches your home and find furniture pieces that all have similar qualities.

Add accessories. For the Victorian home, gilded frames, carved clocks or patterned china suggests the richness and opulence this theme is based on. Plain ceramic vases, wooden bowls or nature elements such as a gathering of dried grasses or pine cones accentuates the earthiness and simplicity of a Colonial. Incorporate a few accessories into each room to stimulate visual interest in both the walls and on the furniture.
References
"Victorian Details: Decorating Tips and Easy-to-Make Projects"; Caroll McKanna Shreeve;2006
"Colonial Style: Creating Classic Interiors in Your Cap, Colonial or Saltbox Home"; Treena Crochet; 2005
Resources
Writer Bio
Alyssa Ideboen has been writing professionally since 2005. She has contributed to several print and online publications, including "Lexington Woman" and "Global Business" magazines. Ideboen holds a Bachelor of Arts in business management and communication from Judson University.
Photo Credits
Jupiterimages/Photos.com/Getty Images
Jupiterimages/Photos.com/Getty Images
More Articles