Bungalow Vs. Ranch Style House
Housing designs have evolved over time. Changes in taste and lifestyle, improvements in building materials and construction methods, and advances in architecture have brought many changes to the styles of homes. Influences from other countries have played a large role in American design.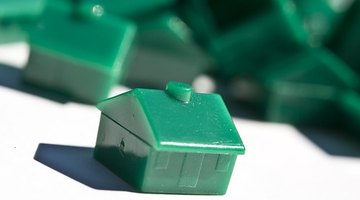 England, for instance, gave us our first Colonial-style homes, and Mediterranean styles were influenced by Italian Renaissance palaces. Two enduring types of architectural styles, still in use a great deal in America, are the bungalow, which originated in India, and the uniquely American ranch-style house.
History
In the early 1900s, the bungalow was the trend in housing styles. Based on the architecture of simple homes in India, these homes became so popular that the Sears, Roebuck Co. offered floor plans for them in its 1926 catalog.
The influence of the Spanish hacienda and Frank Lloyd Wright's prairie-style home, combined with the popularity of the bungalow, brought about the ranch-Style home, or "rancher." The first rancher was built in San Diego in 1932.
Features
Although today there are many variations of the bungalow, the original bungalow was a one and a one-half story home with a low-pitched roof, set in a garden. The interior featured a group of rooms clustered around the main room. Built-ins were popular, from cabinets and shelves to seating.
The most identifiable feature of a ranch-style home is the layout. Horizontal, either L- or U-shaped, the Rancher's layout is rambling, and includes large windows and a gable roof. The interior is open and airy with few walls. Since it was designed to take advantage of the California weather and landscape, ranchers have many windows.
Geography
The first bungalow was designed in the late 1800s and built on Cape Cod in Massachusetts. It contained two stories and a floor plan that was much larger than subsequent bungalows.
Ranch-style homes originated in California. Architect Cliff May is considered the "father of the California ranch home." He combined the influences of his childhood home--a ranch in San Diego--with Hispanic hacienda styles brought to the state by early Spaniard settlers.
Influence
The rancher became so popular that the style soon spread to other parts of the world. Today you can find ranchers built in the 1950s in Australia, Switzerland, Venezuela and Ireland. In America, the style is experiencing a resurgence in popularity.
The American bungalow has evolved over the years to include many different styles. The American Craftsman bungalow, a style popular in the early 20th century, utilized locally handcrafted items, such as glass and metal work, to add simple elegance to the style. Think Stickley furniture and you will have an idea of the Craftsman movement in architecture. This style went on to influence the Art Deco movement of the 1930s. The influence of the bungalow style has spread far and continues to influence architectural and design styles.
Preservation
Since the beginning in the 1990s, preservationist groups have made great strides in saving America's historic architecture. The National Register of Historic Places has seen an upsurge in nominated properties. Young, first-time home buyers have given new life to existing bungalows and ranchers. These new homeowners have found that, because of their simplicity, these homes are easy to update and modify. Developers are building new ranchers as well, using slogans such as "history worth repeating," to draw in buyers who are interested in buying into this "retro renaissance."
References
Writer Bio
Based in the American Southwest, Bridget Kelly has been writing about gardening and real estate since 2005. Her articles have appeared at Trulia.com, SFGate.com, GardenGuides.com, RE/MAX.com, MarketLeader.com, RealEstate.com, USAToday.com and in "Chicago Agent" magazine, to name a few. She holds a Bachelor of Arts in English with a concentration in creative writing.
More Articles