What Is a Tri-Level House?
Television's 1960s "The Brady Bunch" comedy may come to mind when visualizing the blended style of a tri-level home. A tri-level house is a cross between single-story ranch and two-story designs that blossomed throughout suburbia from 1945 to the 1980s. The tri-level is one branch of the split-level family of house styles related to architect Frank Lloyd Wright's low-slung, horizontal "prairie style," which melds with its site.
Split-Level Homes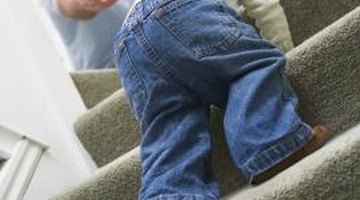 Split-level homes have living spaces on two to four different levels. These include bi-levels, tri-levels, quad-levels and raised ranch homes. The entry of a boxy looking bi-level house opens to a small foyer leading to upstairs and downstairs areas. There is no ground floor. The similarly boxy raised ranch also has two levels: a first floor and a garden-level basement. Tri-levels have deep roof eaves, public areas with open floor plans and sloping, triangular profiles. The shallow end of the triangle is a single-story entry floor. The high part of the triangle is two floors, one upstairs from the entry, and the other a garden-level basement. If there is a basement below the garden level or the entry-level floor, it is a quad-level home.
History
Frank Lloyd Wright is credited with inventing the split-level concept. His prairie style emphasized separating bedrooms and other private parts of a home from more public living areas such as the kitchen, dining room and parlor. In 1908, Wright designed a home for one of his employees, Isabel Roberts, who needed a house that was smaller and more affordable than those of regular clients. To make it as functional as his larger designs, Wright incorporated varying floor levels to separate private and public areas. Split Level website states Wright obviously influenced whoever first hybridized ranch homes and two-story structures to produce inexpensive yet roomier homes for the post-World War II baby boom era.
Tri-Level Floor Plan
The classic tri-level floor plan includes a front entry at the center of the house. The single-story section of the house may be to the right or left of the front entry and typically is built on slab. It usually contains the kitchen as well as dining and living rooms, and may lead to an outdoor patio. On the two-level side of the entry are short staircases -- approximately seven steps leading up to bedrooms and bathrooms, and seven steps going down to a garden level encompassing extra private areas, a laundry room, a play or family room, and an attached garage.
Brady Bunch House
The Brady Bunch house as visualized on TV appeared to be a shallow tri-level on the outside, but had a full second-story height staircase inside. Many scenes in the show centered on the upward flight of stairs -- a screen-stage set -- which the Brady children ran up and down. The exterior shots were based on a real but far smaller split-level home in the Southern California's San Fernando Valley. Some tri-levels are referred to as "California contemporaries."
References
Resources
Writer Bio
Alicia Rudnicki's Library Mix website blends book buzz for all ages. A gardener, she writes for California's Flowers by the Sea nursery. She has a Bachelor of Arts in journalism from UC Berkeley, a Master of Arts in education from CU Denver, and has taught K-12.
Photo Credits
BananaStock/BananaStock/Getty Images
More Articles