Typical Arizona Houses
Almost 80 percent of Arizona homes lie in the desert cities of Phoenix, Tucson, Yuma and Kingman, according to the 2000 Census. As a result, typical home designs incorporate designs and materials to resist the intense sunshine and dry air found in all altitudes in Arizona.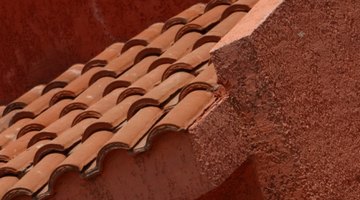 The most common exterior material used for Arizona homes in the deserts is stucco and roofing materials are tile. Most homes in Arizona do not have basements.
Exteriors
Many of the homes built in the deserts of Arizona have a Mediterranean or quasi-Mediterranean style. The exterior siding is typically stucco, since this material resists heat and dryness well and is relatively easy and inexpensive to apply. Stucco, should it crack, is easy to repair. Homes built later than the mid-1980s have concrete tile roofs, a durable roofing material that lasts for decades. In mountain communities, homes may use wood or log exteriors and roofing material that snow slides off easily.
Stories
Homes in Arizona typically do not have basements. The soil in Arizona's deserts has a layer called caliche, a rock-hard substrate of compressed gravel, calcium carbonate and clay that is hard to dig. Before the cost of a lot in Arizona's cities grew to a concern, most homes were single-story since land was inexpensive. Once the building boom in Phoenix accelerated the value of land, builders turned toward smaller lots and two-stories to reduce the base cost of a home. The side-to-side distance between homes in Tucson and Phoenix, Arizona's largest cities, can be as little as 10 feet in many subdivisions.
Interiors
Smaller Arizona homes have two to three bedrooms, a living room and a dining room or a space adjacent to the kitchen to eat. Most homes in Arizona feature patios, although second floor balconies are uncommon except in apartments, condos or town homes. Larger homes include both formal and informal living and dining areas. Most Arizona homes have at least one sliding glass door that leads out of the living room or family room onto a patio in a backyard. Homes in the mountains are more likely to have a raised deck since the lots may have steep grades.
Yards
Most front yards in the deserts and mountains use native plants and different kinds of gravel, since the cities in the metro areas adopted water-saving measures to reduce water demand for outdoor landscaping. While desert residents may conserve water by using cacti and succulents, swimming pools provide cooling relief in the summer. According to a report issued by the Water Resources Research Center, 20 percent of homes in Tucson had a backyard swimming pool, a number that is likely to be higher in the Phoenix area, where it is hotter and water supplies are more plentiful. Almost all yards in Arizona's desert cities have fences that enclose the backyard made from concrete block, although older homes may have wood fencing.
References
Writer Bio
Jackie Johnson is a published writer and professional blogger, and has a degree in English from Arizona State University. Her background in real estate analysis prepared her for objective thinking, researching and writing.
Photo Credits
Jupiterimages/Photos.com/Getty Images
Jupiterimages/Photos.com/Getty Images
More Articles