What Type of Wood Floors Are Best for Florida?
Florida homes are unique. Because the state is basically a sandbar and the water table is just a few feet under the top soil, basements are impossible, and interior humidity is often high. Most Florida homes are built on cement slabs and rarely does a builder incorporate a sub-floor before installing carpeting.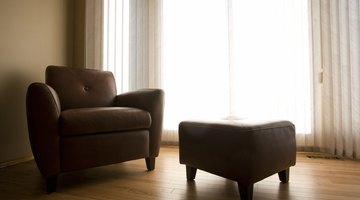 Wood is another flooring option, but the choices are subject to the vagaries of the climate. Understanding the Florida climate and home-building methods leads to a smarter choice when shopping for wood flooring.
Hardwood Flooring
Nothing compares to the look of solid hardwood flooring. An expanse of wood leading to floor-to-ceiling windows overlooking a pool or lake is the definition of the Florida lifestyle. However, hardwood flooring can lead to costly repairs after the installation. Hardwood doesn't react well to the Florida humidity. The more moisture in the air, the more it expands. Installers must leave a space between the edge of the floor and the wall to compensate for this expansion. Humidity can also cause the wood to rot, and mold is a potential hazard. Finishing work and maintenance add to the cost and time commitment of hardwood floors in Florida homes.
Engineered Wood
A good-quality engineered wood floor is ideal for the Florida climate and style of home building. It can be laid directly onto a cement slab, or a sub-flooring can be installed to create a moisture barrier. Engineered wood has real wood as the top layer and particle wood underneath, and it's designed to deflect high moisture levels. It's also 300 percent harder than real hardwood due to the acrylics in the formulation. Engineered hardwood isn't affected by environmental changes such as humidity and doesn't travel -- expand and move -- like hardwood.
Laminated Wood
Laminated flooring is popular in Florida since it resembles real wood, but isn't. Totally man-made, laminate wood floors have improved vastly since their introduction. The linoleum feel has been eliminated and often it's difficult to tell the difference between a laminated wood floor and real hardwood. Laminated wood is resistant to moisture, doesn't fade in the sunshine, is impervious to scratches and doesn't travel in high humidity situations. A laminate floor can be installed directly over concrete and doesn't require a sub-floor.
Wood Porcelain Tile
A new and popular player in the wood-floor market in Florida are porcelain tiles made to resemble wood planks or elegant parquet. The tiles can be laid directly over a concrete base, and grout spacing is minimal. A distressed tile is also available, resembling distressed wood flooring. Tile is the ideal flooring in Florida homes as it requires little maintenance other than a good mopping.
References
Writer Bio
Jann Seal is published in magazines throughout the country and is noted for her design and decor articles and celebrity *in-home* interviews. An English degree from the University of Maryland and extensive travels and relocations to other countries have added to her decorating insight.
Photo Credits
Design Pics/Design Pics/Getty Images
Design Pics/Design Pics/Getty Images
More Articles