What Kind of Flooring Goes With Paneling?
Natural wood paneling, synthetic paneling and painted paneling are common wall treatments in home design. Due to its plank-like qualities and striped woodgrain patterns, it is important for your paneling to harmonize with your floors. Since wall paneling is made from wood, it is best to avoid using hardwood for your flooring. Several other flooring materials coordinate well with panelled walls.
Ceramic or Porcelain Tile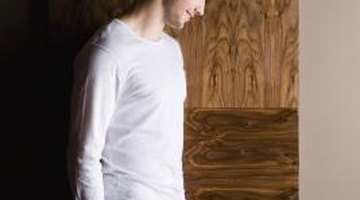 Ceramic and porcelain tile are affordable and durable flooring materials that complement wood paneling. Since wood panels tend to darken a room's overall appearance, it is best to choose light-colored ceramic or porcelain tile. Tile colors including beige, tan, white, off-white, eggshell, butternut or light brown harmonize with most shades of wall paneling.
Carpet
Neutral earth-tone carpet colors coordinate with the natural wood grains in wall paneling. Install light-colored wall-to-wall carpet for the best overall design. Choose contemporary carpet styles like berber, California shag and frieze to modernize your living space. Avoid indoor-outdoor carpet that makes your wall paneling look commercial.
Slate Tile
Light-colored slate tile has color variations similar to those found in wood paneling. Opt for slate tile that has light brown or golden undertones and avoid slate tile with black undertones. Dark slate does not complement wall paneling and reduces the appearance of the size of the room.
Vinyl or Linoleum
Vinyl and linoleum are common flooring materials that are less expensive to install than ceramic, porcelain or slate tile. Select a vinyl or linoleum that is not heavily patterned or the design might clash with your woodgrain paneling. Opt for modern marble or stone designs that are simple and have subtle patterns. Vinyl and linoleum are easy to clean and require little maintenance.
Writer Bio
As curriculum developer and educator, Kristine Tucker has enjoyed the plethora of English assignments she's read (and graded!) over the years. Her experiences as vice-president of an energy consulting firm have given her the opportunity to explore business writing and HR. Tucker has a BA and holds Ohio teaching credentials.
Photo Credits
Jupiterimages/Polka Dot/Getty Images
More Articles