How to Remove Stains From Beige Carpet
Cleaning your carpets involves regularly vacuuming and spot cleaning. If you have a light-colored carpet such as beige, you may find yourself spot cleaning more often because the stains are more visible on a light rug than a dark one. Use mild household cleaners to remove stains and avoid damaging your carpet.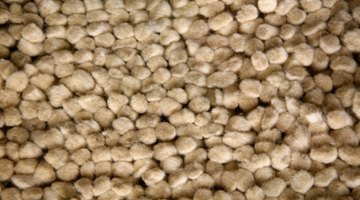 Regardless of your cleaning method, always test it on a small area of your beige carpet to see if it will damage or discolor the carpet.
Mix 1/4 tsp. liquid dish detergent with 1 cup lukewarm water.

Apply the soap solution to the carpet stain with a cloth. Dab rather than rub the carpet, as rubbing will spread the stain or push it deeper into the carpet fibers where it will be harder to remove.

If the stain is still visible, mix 1 cup distilled white vinegar with 2 cups water.

Apply the vinegar solution to the stain with a clean cloth. Be careful not to rub the stain. Blot the vinegar solution with a clean cloth.

If you can still see the stain on the beige carpet, mix 1 tbsp. ammonia with 1 cup water.

Blot the ammonia-based solution onto the stain with a cloth.

Mist the area with clear water from a spray bottle. Do not soak the carpet.

Dry the area thoroughly with a clean cloth or towel.

Repeat Steps 7 and 8 until all the cleaning solutions are rinsed from the carpet.
Things You Will Need
Liquid dish detergent
Water
Cloths
Distilled white vinegar
Tip
Do not use bleach-based products to clean your beige carpet as this could permanently damage the color. Use white cloths so you can see the stain transfer from the beige carpet to the cloth.
References
Writer Bio
Kaye Wagner has been working in the fields of journalism and public relations since 2006 and is a recipient of a National Hearst Award. She is particularly interested in home-and-garden projects, as well as beauty and fashion writing. An avid traveler, she also writes travel reviews and guides. Wagner earned a Bachelor of Arts in journalism from Brigham Young University.
Photo Credits
Jupiterimages/Photos.com/Getty Images
Jupiterimages/Photos.com/Getty Images
More Articles