How to Decorate With Maple Flooring
Maple hardwood flooring is typically treated with a clear stain to preserve the natural, light color of the wood. Natural maple floors are blonde in color and can be mixed with a variety of different colors and materials. This is an excellent flooring for contrasting with darker woodwork or furniture, and it is commonly found in modern or contemporary design schemes. This will affect your design choices for a room and can help guide you toward harmonious decor decisions.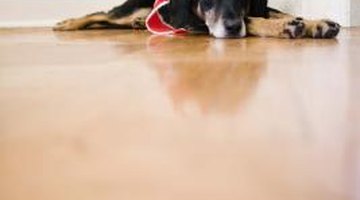 Step 1
Choose your decor style. In residential design, light maple flooring is typically paired with contemporary or modern furnishings. Other design themes such as country or arts and crafts typically feature darker flooring and do not harmonize well with a light flooring such as maple. Industrial-style decor is also commonly paired with light maple flooring. Other design styles that are appropriate include Danish modern, Art Deco and Asian inspired.
Step 2
Paint the walls with a complementary color. Maple can feel either warm or cool, depending on the wall color chosen for the room. For a contemporary look, choose white walls. This will create a very clean and crisp feeling to the room by combining the lightest color possible with the light coloring of the flooring. To warm up a stark space and give it more character, use ivory or light neutral colors such as beige, tan or a light sage green.
Step 3
Choose furniture that contrasts or complements the flooring. Since maple flooring is typically light, choose a bold, dark contrasting color for your furniture. This technique will work best in a large room that will not be overwhelmed by dark furniture. For a smaller room, choosing lighter furniture will help make the space feel larger than it is.
Step 4
Select accessories for the room that go with your design theme. Since maple is typically used in contemporary design themes, your accessories for the room should mirror this theme. A minimalistic approach is best for a contemporary design, particularly if the room is small.
Step 5
Use rugs to add color to the room. If you have chosen to use light furniture, the room can appear washed out. To add extra color to the space, select a vibrant rug in the design theme that matches the room. Place the rug in the center of the room to serve as a focal point. It is important to allow the rug to be a focal point, without overwhelming the flooring or hiding it. A 6-by-8-foot rug will work well in a large room. For smaller rooms, a 5-foot circular rug or a smaller, 4-by-7-foot rug is appropriate.
References
Writer Bio
Kate McFarlin is a licensed insurance agent with extensive experience in covering topics related to marketing, small business, personal finance and home improvement. She began her career as a Web designer and also specializes in audio/video mixing and design.
Photo Credits
Jupiterimages/Creatas/Getty Images
More Articles