How to Make Your Bedroom Look Like a Forest at Night
Show your whimsical and nature-loving side by decorating your bedroom to look like an enchanted forest. When you turn out the lights after completing this project, your room will seem like a veritable wilderness for your stargazing and zen-seeking pleasure. Knowing how to make your room look like a forest at night is a fun decorative craft that turns your bedroom into the coolest part of the house.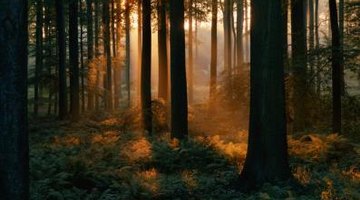 Step 1
Measure the area of your bedroom floor after removing all of your furniture. Use this measurement to cut out a matching shape of plush, dark brown carpeting from the roll. Cut the carpet to fit just over your current flooring by cutting it into the shape of your room.
Step 2
Lay the carpet segment directly over your current flooring. Don't make the floor permanent, as you will want to change the theme eventually. This gives your room flooring the color of dark forest ground soil.
Step 3
Cover your walls with temporary paint panels, which are found in home decor shops. These reusable panels stick to your walls, but peel off with ease for temporary and long-term use. Use dark tones of green, black and brown to mimic the colors of a forest. You don't have to cover every wall in your room with these paint panels, but do so around the area that you want to look like a forest.
Use scissors to cut the thin, vinyl panels to fit around light fixtures and other wall fixtures.
Step 4
Replace your bedroom furniture with wood-grain furniture that encompasses the look of a deeply wooded forest. Cherry wood, natural wood and eucalyptus wood are fun colors for furniture. A wood dresser and bed frame is adequate. Arrange the furniture to suit your needs.
Step 5
Select an assortment of round throw rugs in assorted sizes. The largest one can be placed directly at the side of your bed for when you first rise from sleeping. Create a "moss path" with the smaller throw rugs throughout your room. Use moss green, shaggy rugs. These contrast with the soil brown flooring making your room more like a wooded wonderland.
Step 6
Arrange an assortment of artificial and live potted plants around your room. If you use live plants, only use varieties that thrive in dark areas such as orchids and golden pothos foliage. Ficus trees are ideal because they are skinny and can be arranged around your walls to stand upright like a forest of trees.
Step 7
Stand on a stool and affix a variety of glow-in-the-dark sticker stars and moons to your bedroom ceiling. When your lights go out, these stars and other shapes glow in the night, which accentuates the look of your forest themed bedroom. They come in a wide array of colors, so choose a mix or one color that suits your needs.
Tips
Use color-coordinated bedding and room basics that match your bedroom forest theme. Shades of brown, black, green and other earth tones are ideal.
Writer Bio
The author of such novels as "Planet Omega" and the romantic drama, "Chloe and Louis," Chelsea Hoffman devotes her time to writing about a myriad of different topics like gardening, beauty, crafts, cooking and medical research. She's published with Dobegreen.Com, The Daily Glow and other websites, and maintains the site Beauty Made Fresh.
Photo Credits
David De Lossy/Digital Vision/Getty Images
More Articles