Design Your Basement Like a Dungeon
Where better to design a dungeon in your home than the place that is already known for its dark spooky corners and cobwebs--your basement? Give your unfinished basement a dungeon-inspired design which will be perfect for a Halloween haunted house or costume party or even a permanent design that will make your basement a quirky room for gaming or movie nights.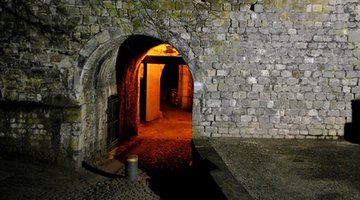 Hang dark curtains to help block out the light and create a dark and spooky dungeon-like ambiance. According to Bedroom Decorating Ideas, gauzy light fabrics will seem out of place, so it is more appropriate to opt for heavy dark fabrics, which you can embroider to add extra flair.

Paint the room using dark colors such as black, navy blue, gray or purple. If you are artistic and want to get creative with the room, you can paint the walls to appear like stones in a real dungeon.

Replace your standard light bulbs with colored bulbs to cast an eerie hue across your dungeon. You can also invest in lighting installations that look like candles and flicker to add a sense of reality to the room.

Add over-sized comfortable furniture in dark fabrics if you are decorating the room permanently in a dungeon design. Just because your basement looks like a dungeon does not mean you have to be uncomfortable while you are using the space. Incorporate dark wood pieces with metal pulls and details for tables and book shelves and authentic looking tapestries to adorn your stone dungeon walls.

Add spooky dungeon-inspired accessories and decorations if you are decorating your basement for a special event or party and do not intend to leave it up year round. You can purchase chains at your local home improvement store and have "shackles" lying around the dungeon. You can also incorporate fake cobwebs and even a skeleton lurking in the corner to spook your guests.
Tips
If your budget permits, you can incorporate actual stonework on an accent wall of your basement.
Writer Bio
A West Coast transplant currently living in Washington D.C., Rhiana Quick has always had a passion for writing and started her freelance career in 2010. Quick earned her bachelor's degree in political science and French from Boise State University and is currently working at a nonprofit organization.
Photo Credits
More Articles