How to Hang Fish Netting on a Wall Images
If you are looking for a one-of-a-kind way to memorialize a family vacation, mixing those holiday photos in with genuine fish netting can make a real impression. You can find used fish netting on the Internet, at bait shops and possibly even at a local yard sale.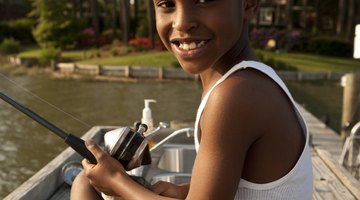 Once you have the raw material, you can use it to create a wall hanging that will get the attention of everyone who enters the room.
Measure the section of wall where you want to hang the fish netting, mementoes and images. When you hang the fish netting, you will want to create loops and drapes, so you should purchase enough fish netting to cover that area, plus about 30 to 50 percent extra to account for those drapes and loops.

Lay out all the photographs, souvenirs and other items you want to include in your fish net wall hanging. Choose pictures with a nautical theme as well as seashells and other items you gathered from your beach vacation or cruise. You can purchase larger decorative items, such as float rings and tow ropes, from outdoors retailers and online shops.

Pound a decorate hook into one end of the wall with a hammer. Look for a hook with a nautical theme if you can locate one, otherwise just use the most attractive hook you can find. Insert another decorative hook on the opposite end of the wall, then put additional ones at unevenly spaced intervals between those two. Place the hooks at varying heights to create a freeform look and feel to your fish net wall hanging.

Hang the end of the fish net from the first hook, then use the other hooks to create drapes and loops at different areas along the wall. Hang the other end of the fish net on the farthest hook.

Place the larger items inside the drapes and loops in the fish net. Use decorative hooks and clips to attach the float rings, tow ropes, starfish, sea urchins and seashells to the netting. Hang nautical-themed items such as fishing lures and floaters inside the netting and anchor them in place.

Frame your photographs using frames with a nautical or beach theme, then hang them on the wall through the netting. Place the picture hangers in the wall so that the hangers stick out from between the gaps in the netting. Then hang the pictures normally so that they are superimposed on the fish net background. Hang smaller pictures directly from the netting, changing them often to create a rotating gallery of vacation and family photos.
Things You Will Need
Measuring tape
Hammer
Decorative hooks
Fish netting
Picture hangers
Clips
References
Writer Bio
Based in Pennsylvania, Bonnie Conrad has been working as a professional freelance writer since 2003. Her work can be seen on Credit Factor, Constant Content and a number of other websites. Conrad also works full-time as a computer technician and loves to write about a number of technician topics. She studied computer technology and business administration at Harrisburg Area Community College.
Photo Credits
Comstock Images/Comstock/Getty Images
Comstock Images/Comstock/Getty Images
More Articles