How to Make a Room Like the Hogwarts Dormitories
In the Harry Potter books and movies, Hogwarts School of Witchcraft and Wizardry is a magical place where students learn to cast spells and battle evil. If a Harry Potter fan lives in your home, you can create a theme bedroom that transports your child to the Hogwarts dormitories.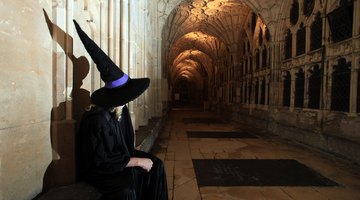 Paint, wallpaper and flea-market furnishings are all you need to create authentic Hogwarts decor.
Hogwarts Houses
The Hogwarts houses -- Gryffindor, Ravenclaw, Hufflepuff and Slytherin -- are home to the school's wizards in training at the wizardly boarding school. Although the houses and their residents are very different, the dorms share similar elements of Gothic architecture. To transform a room into a Hogwarts dorm, cover the walls with faux-stone panels or wallpaper. If you'd like to create contrast in the room, paint a feature wall in a neutral color that mimics old plaster. Give your home's contemporary windows a Gothic look by using a stone-imprinted wallpaper border to create pointed arches around them. Dark wood or tile flooring complements Hogwarts decor, but if you have carpeted or light-colored floors, you can cover them with worn Oriental-style rugs.
Common Rooms
Hogwarts students hang out and study in their house's common rooms, which are decorated with timeworn furnishings. To copy the look, layer patterned rugs on the floor and hang tapestries or rugs on some of the walls. On an empty wall, create a gallery of inexpensive prints and portraits displayed in ornate, but inexpensive flea-market frames. When you select furniture for the Hogwarts room, choose old, carved tables and chairs from your attic or a secondhand store. Incorporate shabby sofas, chairs and ottomans upholstered in leather and dark fabrics into the floor plan so there's plenty of lounging space. If you have a collection of old encyclopedias or other books, display them on shelves and stack them on the floor. Light the room with an elaborate chandelier and hurricane-style table lamps.
Private Rooms
If you're giving a bedroom the Hogwarts treatment, start with the same Romanesque-inspired Gothic foundation of stone walls and dark floors. A curtained bed serves as the focal point of a Hogwarts bedroom. Use an old, ornate four-poster or canopy bed and red velvet drapes to re-create the beds shown in the Harry Potter movies. Hogwarts bedrooms are quite sparse, but dark wood dressers are essential for clothing storage. Hang wooden pegs on the walls to hold school robes, house scarves and other accessories. Each Hogwarts student arrives at the wizard school with a trunk marked with his or her initials. To make a look-alike trunk, apply adhesive letters to a vintage travel suitcase and tuck it under the bed.
Personal Touches
When you transform a room into a Hogwarts dorm, include decorative details that add authenticity and demonstrate your Harry Potter knowledge. Write "Nimbus 2000" on a broom handle and prop it in a corner. Dress the bed in a knitted afghan that looks like one of Molly Weasley's creations and fill a glass jar with "Bertie Bott's Every Flavor Beans" or regular, un-magical jelly beans. If your Harry Potter fan has a collection of memorabilia, incorporate it into the decor. Display wands, quidditch gear and plush versions of Hedwig the owl and Scabbers the rat throughout the room. Place a pair of wire-rimmed glasses on top of an open book so it looks as if Harry just finished studying for the "Defense Against the Dark Arts."
References
Resources
Writer Bio
Kathleen Berlew has been a writer and editor for more than 25 years. Her work has appeared in "Crafts 'n Things," "KidsCrafts" and "Crayola Kids" magazines. Berlew's proofreading and editing credits include the books "A Gardener's Craft Companion," "Christmas with Mary Engelbreit" and "The Embroidered Home."
Photo Credits
Matt Cardy/Getty Images News/Getty Images
Matt Cardy/Getty Images News/Getty Images
More Articles