How to Make a Bedroom out of a Game Room
When it's time to move the pool table out and the bunk beds in, you need a plan to convert the game room to a bedroom. Determine the style that will reflect the new occupant's personality and decide on the purchases you will need to make. Consider the dimensions of your room before selecting any furnishings. For example, if the room is small, and the occupant will be an older child, you may want to consider loft-style furniture.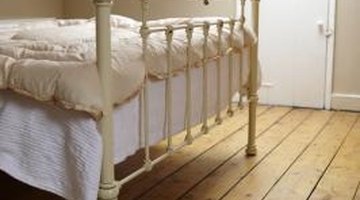 Remove the furnishings from the game room and store them in the desired location or donate them.

Clean the empty game room. Vacuum the floor and wipe down the walls. Clean any light fixtures and windows.

Consider painting the game room a warm neutral tone, such as a buttery cream or sage green. Tape off the woodwork and paint the walls with your roller if desired.

Move in the bed and place it against one wall if the room is small. If the room is larger, center it along the wall opposite the door.

Dress the bed with your chosen linens.

Decorate the walls with fine-art posters or, if the new occupant is a child, whimsical wall stickers.

Place a table lamp on the dresser to give the room warm light.

Bring in books, collectibles and other home accents to make the room feel comfortable.
References
Resources
Writer Bio
I hold a B.S. in Elementary Education and M.S.in Education Administration. Having completed seven years successful classroom teaching experience at the second grade level in public education, I am an expert in my field of primary education.
Photo Credits
Dougal Waters/Digital Vision/Getty Images
Pool table image by MAXFX from Fotolia.com
glass cleaner image by Randy McKown from Fotolia.com
paint roller image by Ana de Sousa from Fotolia.com
bed room image by Stephen Orsillo from Fotolia.com
quilts image by Christopher Martin from Fotolia.com
table lamp/ bedside light image by L. Shat from Fotolia.com
comforting angel image by Michael Shake from Fotolia.com
More Articles