How to Decorate a Home Like French Polynesia
French Polynesia contains some of the most exotic tropical islands in the world, including Tahiti and Bora Bora, among over 100 other islands and atolls. While this remote paradise may seem a world away, you can still bring the look and feel of the South Pacific into your home with island-inspired furnishings and decor.
Light and Breezy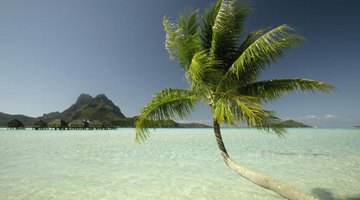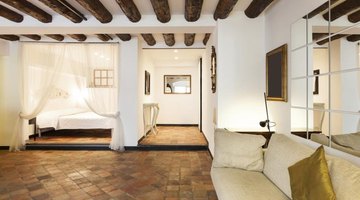 In the tropics, light interiors keep rooms feeling cool and fresh. Walls are typically painted white or off-white, accented by natural wood trim, wood ceiling beams and wood paneling. Interior living spaces often open up to outdoor patios or balconies for a flowing transition between indoors and outdoors. The isolation of island life encourages the use of locally sourced natural materials, giving interiors a very organic feel. Allow plenty of natural light to enter rooms by using sheer curtains on windows. If you prefer a little more color on walls, go with a light beige or cover walls with teak or bamboo paneling.
Organic Texture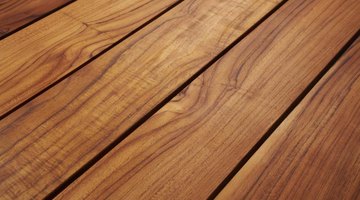 Convey the feel of a French Polynesian bungalow with furniture made from teak, bamboo or banana leaf. Furniture made from rattan, wicker or water hyacinth also imparts a tropical feel. Include layers of organic texture with items made from woven seagrass such as area rugs, baskets, chairs and headboards. Provide an extra layer of privacy when needed with matchstick blinds on windows. Plantation-style shutters work well with wood paneling. Grasscloth wallpaper is another option for adding texture and color to walls.
Island Art
Bring in a touch of Tahitian culture with colorful, hand printed pareus. Pareus are brightly colored sheets of fabric that can be wrapped around one's body and worn as a simple dress or draped across a bed, the back of a sofa or the arm of a chair for a splash of color and pattern. Hang a collection of authentic wood Polynesian tiki masks or display carved tiki sculptures on a table or shelf. Hang a framed Polynesian tapa on the wall. Tapas are paintings on fabric, traditionally used as celebration dance dresses depicting tattooed heiva dancers, Marquesan women, aquatic animals and traditional Marquesan tattoo motifs. In lieu of traveling to French Polynesia to acquire these tribal treasures, look for them online.
Tropical Accents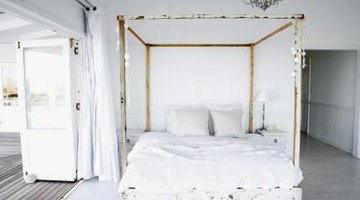 Put the finishing touches in your home with accents that capture the feel of French Polynesian life. Oversized planters with large palm plants and broadleaf tropical plants are a good start. Tropical flowers are abundant on Polynesian islands and are commonly seen in the hair of Tahitian women; look for fabric patterns or framed art with motifs of hibiscus, orchids or white gardenia, which resemble Tahitian tiare flowers. Fresh or silk flower arrangements will brighten rooms. Drape gauzy white material over a four-poster bed or hang it from ceiling hooks to resemble the mosquito netting used in tropical locales. Include several framed photos of Polynesian beaches and landscapes or even a wall-sized mural to bring a piece of paradise into your home.
References
Resources
Writer Bio
Michelle Radcliff owned a retail home furnishings business for eight years. Radcliff offers decorating advice on her blog, Home Decorating News, is a regular contributor on interior design at LoveToKnow.com and earned certification as an interior decorator from Penn Foster College in 2013.
Photo Credits
Medioimages/Photodisc/Photodisc/Getty Images
piovesempre/iStock/Getty Images
Tihis/iStock/Getty Images
Jose Manuel Luis Casal/iStock/Getty Images
Jupiterimages/Goodshoot/Getty Images
More Articles