Bedroom Decorating Ideas With A-Frame Ceilings
A true A-frame home has only a few vertical walls, as the steeply sloped ceiling reaches all the way to the ground on each side. This late Mid-Century design is particularly well-suited for mountain climates with heavy snowfall and waterside cottage retreats.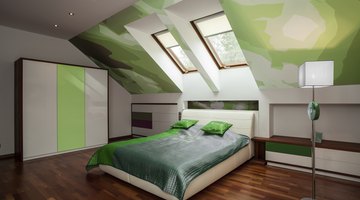 Homes with standard side walls leading up to cathedral ceilings can also be considered as A-frame designs. Bedrooms in A-frame homes are often located in lofts, attics or upper levels, being either small or spacious, depending on the home's design. Play up the ceiling's unusual architecture with decorative elements that enhance the angular lines or that emphasize its height or shape.
Embellished End Walls
Accent walls in bedrooms are typically located behind the head of the bed. But in a room with an A-frame ceiling, the end wall is the natural choice for an accent wall, no matter where the bed is located. Paint the wall in a bold color to emphasize its different shape or cover it with wallpaper or planked wood paneling for an enhanced pattern or pleasing rhythmic lines.
Create a gallery wall by filling it with framed photos and wall art, hanging frames on the diagonal, following the sloping line of the ceiling. If the wall has planked paneling and a window, hang curtains with horizontal stripes secured at the top and bottom with rods, following the rhythm of the lines on the wall. Built-in shelves are another good option for drawing the eye with angular lines and providing an abundance of storage.
Furniture Options
Although many A-frame homes have rustic features such as exposed wood beams or wood paneling, rooms can easily transition into contemporary styles with interior paint and modern furnishings.
In rooms with limited space, a platform bed and minimalist, low-profile furniture makes the bedroom feel less cramped. The head of a platform bed can be comfortably positioned under the slant of side walls. Low-profile cabinets and dressers can also be used in the narrow space between the slanted walls and the floor.
A campaign style canopy bed frame floated in the center of the room or placed against a vertical wall accentuates the ceiling's climactic height with gracefully curving thin iron rails that swoop into an elevated crown. This type of bed can be styled to look traditional or modern. Small twin beds fit snugly against the angular nook of sloped ceilings that reach to the floor, creating a cozy feel in loft and attic bedrooms.
Enhanced Natural Lighting
One of the biggest advantages of an attic bedroom or bedroom in an A-frame home is the ability to install skylights. With angled walls that also serve as the ceiling, skylights bring in natural light that instantly brightens and warms the room.
Tall, arched windows on end walls also provide abundant light with a subtle nod toward the ceiling's height. In some A-frame designs, end walls open up onto balconies or patios, with wide glass sliding or French doors left open to welcome fresh air, sunshine and the beauty of outdoor views.
Architectural Accents and Accessories
Emphasize the triangular shape of the room with exposed wood beam rafters on the ceiling. Paint the wood white for a casual cottage feel or contemporary styling. For more contrast or a rustic feel, stain the wood a darker color or use rough, reclaimed wood beams.
Create a focal point with a large chandelier, artistic hanging pendant or decorative ceiling fan with light kit. With the absence of wall art, style the room with a mix of patterns on upholstery and fabrics. Make the room feel cozy with plush or furry area rugs and throws casually draped over furniture. Add interest with a mix of textures such as organic woven baskets, leather chair upholstery, fringed bedspreads or blankets and sleek ceramic lamp bases.
References
Resources
Writer Bio
Michelle Radcliff owned a retail home furnishings business for eight years. Radcliff offers decorating advice on her blog, Home Decorating News, is a regular contributor on interior design at LoveToKnow.com and earned certification as an interior decorator from Penn Foster College in 2013.
Photo Credits
KatarzynaBialasiewicz/iStock/Getty Images
KatarzynaBialasiewicz/iStock/Getty Images
More Articles