How to Make a Moroccan Floor Couch
Turn your living room, bedroom or other recreational space into a sort of "Marrakesh Express" by creating your own Moroccan floor couch. Such couches are generally -- you guessed it -- low to the ground and do not feature a back.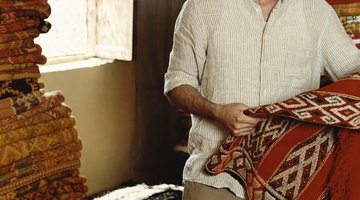 Rich, jewel-toned and earth-toned colors and fabrics and geometric patterns dominate Moroccan design, which also includes a lot of floor pillows and cushions. Use other Moroccan decor pieces for the project room such as wrought iron as wall art, Moroccan lanterns and candles, carved screens and carved furniture pieces featuring mother of pearl and brass detailing to get the look you crave.
Things You Will Need
Twin box spring
Twin mattress
Twin mattress sheets in jewel tones
Additional jewel-toned fabrics
Jewel-toned throw pillows
Tip
Add large jewel-toned cushions and pillows around the room you are using for the floor couch for a real Moroccan feel. Look for furniture imported from Morocco online.
Place a single, or twin, box spring and mattress against a selected wall in your living room or recreational room. The wall will act as your sofa back. Use a foam mattress that fits the box spring as an alternative to a twin mattress if desired, and choose a box spring that is as low to the ground as possible.

Cover the mattress in rich fabric sheets that fit a twin mattress. Twin mattresses are generally 39 by 75 inches or 39 by 80 inches; look for jewel-toned silk or satin sheets in royal purple, ruby red, gold, royal blue, emerald green and rich pinks. Also try covering parts of the mattress with additional jewel-toned fabrics to create design variety on your couch; stuff the edges of the fabrics underneath the mattress to hold them, though you can also sew the fabric edges to the bottom of the mattress if desired. Simply stuffing the fabric pieces underneath the couch allows you to clean them more easily as well as mix and match fabric choices.

Add a variety of large jewel-toned throw pillows to the couch. Use a few of the bigger pillows up against the wall to create a real couch feel; also place pillows on the ends of the couch and anywhere else there is room.
References
Resources
Writer Bio
Kent Page McGroarty has worked as a writer since 2006, contributing numerous articles to various websites. She is a frequent contributor to the health and fitness sections of the online magazine EDGE Publications and holds a Bachelor of Arts in English from Saint Joseph's University.
Photo Credits
Digital Vision./Digital Vision/Getty Images
Digital Vision./Digital Vision/Getty Images
More Articles