What Are the Measurements of a Daybed Mattress?
Daybeds are known for being both functional and decorative, providing extra sleeping space in rooms not ordinarily dedicated to slumber. A typical daybed uses a twin-size mattress measuring 39 inches in width and 75 inches in length. However, larger daybeds are available, and these require a full-size mattress with a width of 53 inches and length of 75 inches.
Size Matters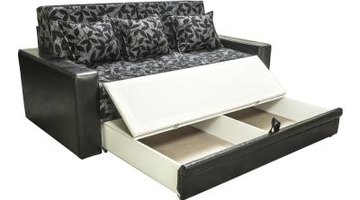 Mattress thickness matters in a daybed, with 8 inches being a customary choice. Anything thicker creates a potentially uncomfortable height when the bed is used for seating during the day. It also could obscure the bed frame, which is generally considered an important piece of decor in the room. Although daybeds are designed to use twin- or full-size mattresses, the fit is typically not a snug one. Because the frame of a traditional daybed covers three sides of the mattress, room is needed for bedding that would ordinarily hang free on a standard bed. Backless daybed designs eliminate some of this concern.
References
Resources
Writer Bio
Wendy K. Leigh is a travel writer and photojournalist from Seattle. She is the Editor of Islands America, a travel website for visiting islands within the United States. She also writes about home design, food and historical architecture. Leigh holds a Bachelor of Arts in English from the University of Washington.
Photo Credits
aleksanderkrsmanovic/iStock/Getty Images
More Articles