What Are the Dimensions of Full and Queen-Size Mattresses?
Knowing the exact size of a mattress helps you pick one that fits both your body and your bedroom. Full and queen are among the most common mattress sizes in the United States. The full is designed to accommodate two small people or one larger person, while the queen is designed for two average people.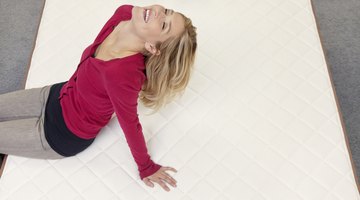 Measurements are slightly different in other countries.
Full Mattresses
A full mattress measures 54 inches wide and 75 inches long. This size is also referred to as a double. A slightly longer version of the full mattress, called the full XL, is available from some retailers. It is 54 inches wide and 80 inches long.
Queen Mattresses
A standard queen mattress measures 60 inches wide and 80 inches long. A California queen mattress is slightly longer than the standard queen, measuring 60 inches wide and 84 inches long. A wider version of the standard queen, called the expanded or super queen, measures 66 inches wide and 80 inches long.
References
Writer Bio
Andrew Tennyson has been writing about culture, technology, health and a variety of other subjects since 2003. He has been published in The Gazette, DTR and ZCom. He holds a Bachelor of Arts in history and a Master of Fine Arts in writing.
Photo Credits
moodboard/moodboard/Getty Images
moodboard/moodboard/Getty Images
More Articles