How to Change a Three-Quarter Bed Frame to Full Bed Frame
A three-quarter mattress frame is a single person frame that measures smaller in diameter than a full bed frame capable of sleeping two people. A standard full-sized mattress measures 54-inches wide and 75-inches long. You can use your three-quarter mattress frame and convert it to a frame capable of holding a box spring and mattress for a full-sized bed with a few basic supplies purchased from your home improvement retailer.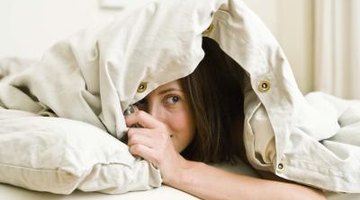 Step 1
Cut a piece of 1-inch thick furniture-grade plywood with a table saw to the dimensions of the full-sized mattress. Again, the standard size is 54 inches wide and 75 inches long. However, measure your actual mattress with a tape measure first and use those measurements for a precise fit. The plywood will serve as a pedestal top for your bed frame.
Step 2
Place the plywood face down on the floor and then place the top of the bed frame onto the plywood. Center the bed frame from top to bottom and left to right. This will evenly distribute the weight of the box spring and mattress over the frame.
Step 3
Drill four evenly spaced pilot holes down the length of each rail on the bed frame. Drill the holes though the bed frame and through the plywood. Use a 1/4-inch drill bit and hand drill.
Step 4
Place the bed frame on its feet and then place the plywood top onto the bed frame. Line up the mounting holes.
Step 5
Push the 1/4-inch diameter machine screws through the holes in the top of the plywood and down though the holes in the bed frame rails. Thread a 1/4-inch nut onto the end of each bolt and then tighten the nuts and bolts with a wrench set.
Step 6
Place the box spring and mattress onto the plywood sheet.