How to Turn a Bed Frame Into a Crib
A full-size bed frame is approximately the same width as the length of a standard crib mattress. This makes a standard full bed frame with a headboard and footboard ideal for converting into a baby crib. It is a fairly simple project, requiring only limited tools and carpentry skills.
Cutting Down the Bed Frame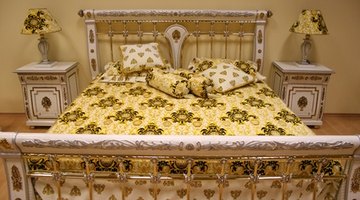 Use a miter saw to cut the bed's side rails to a length of 28 inches.

Line up the rails so that the bottom of the rail is level with the bottom of the footboard and headboard cross-members and 1 inch inward from its original position. Screw the rails to the headboard and footboard using long screws.

Reinforce corners with metal L brackets.
Framing the Crib
Measure the height from the top of the rail to the top of the footboard. Subtract the height of the wooden hand rail.

Using a table saw, cut two pieces of plywood 28 inches by the measurement you calculated in Step 1.

Use small metal L brackets spaced every 8 to 10 inches around all three joints.

Cut two pieces of wooden hand rail 28 inches long. Apply wood glue to the bottom of the hand rail and place on top of the plywood side walls. Secure into place with long screws from the ends, screwing through the headboard and footboard.

Cut a piece of plywood that is 28 inches by 52 inches. Place this piece in the bottom of the crib and secure into place by screwing downward into the rails and using L brackets along the headboard and footboard.
Finishing the Crib
Sand the entire frame. Smooth any rough edges and remove any old finish from the bed frame.

Wipe the entire frame clean with a tack cloth to remove any remaining sawdust from sanding.

Prime the entire crib. When dry, apply two coats of paint. Seal with a coat of polyurethane if desired.

Place a crib mattress in the finished crib and dress as you would a store-bought crib.
References
Tips
For ornate bead frames that you do not wish to refinish, apply paint or other finish to the new parts before attaching them to the bed frame.
Warnings
Sand all cut edges well to avoid slivers.
When using saws and other power tools, always wear safety glasses.
Photo Credits
More Articles