How to Insert Wooden Slats for a Bed Frame
Fix those broken or worn-out wooden bed slats with new ones that can give your mattress the support it once had. You'll even feel the difference when you sit or lay on the bed after installation. A wooden bed frame usually has a headboard, footboard, two side rails and a number of mattress support slats running perpendicular to the side rails. Screws at each end of the support slats typically hold the support slats to the side rails. Once removed, you can insert the wooden slats and attach them to the bed frame.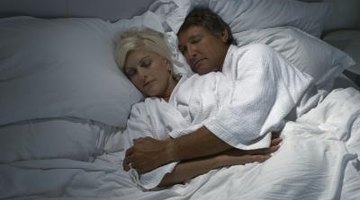 Remove the mattress from the bed.

Remove the screws holding the wooden slats to the bed's side rails with an electric screw gun. Use either a flat-head or Phillips screw drill bit.

Use the dimensions of the old slats to make new ones. Cut the new slats to the same length, using a circular saw.

Insert the new slats where the old slats were removed. Screw in place using the same screws securing the old slats.
Warnings
Wear eye protection while using the circular saw.
Photo Credits
Erik Snyder/Photodisc/Getty Images
More Articles