How to Turn a Gas Oven Off
Operating your gas oven is much like operating any other oven. There are temperature controls that allow you to adjust the temperature your food will cook at. And, generally, the inside of a gas oven looks similar to an electric oven. One of the most basic operations you'll perform with your gas oven occurs when you learn how to turn a gas oven off when you finish cooking. However, just in case you can't turn your oven off, you should know how to shut off the gas valve to the oven.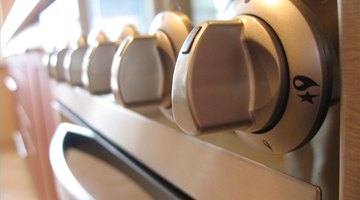 Use the dial on the front of your oven to turn it off by turning the dial to the "Off" position.

Press the "Off" button on the electronic keypad if you have an updated, electronic gas oven. If the gas oven won't turn off, you may need to shut off the gas line.

Find the gas shutoff valve, usually located behind the stove.

Turn the gas shutoff valve to the "Off" position.
References
Ken Hart; Lead Technician, Allstar AVN; Nixa, Missouri; 417-724-2424
Tips
Contact a service technician to find out why your gas oven didn't turn off appropriately before you turn the gas back on.
Writer Bio
Kristan Hart is an award-winning journalist in Springfield, Mo., who provides SEO web copy as a freelance writer/editor. She has a decade of experience and holds a bachelor's degree in mass communications with an emphasis in broadcasting.
Photo Credits
More Articles