Difference Between Bed Slats & Rails
A bed frame is designed to offer comfort and safety. The bed rail is a common component of a bed frame, but slats are used in optional situations. It is not necessary for a bed frame to be constructed specifically to accommodate slats, but the bed owner should understand the difference between slats and rails if she is going to create a safe sleeping environment.
Rails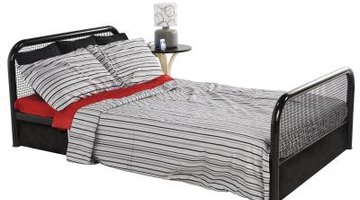 Bed rails are the main pieces of the bed frame that run the length of the mattress. Rails can be made of wood or metal, depending on the design of the frame. If the frame is designed to accommodate a bed without a box spring, then the rail sides would be taller to hold the mattress in place. The bed rails either connect to a headboard and a foot board to create the frame, or they are held together by cross supports.
Slats
Slats are wooden boards that are used to support the mattress when there is no box spring. Bunk beds often use slats to reduce the height of the beds. Slats are normally 1 inch wide by 3/4 inches thick. They span the entire distance from one rail to another. The most common woods used to make slats are poplar, birch and beech.
Attaching Slats to Rails
Bed rails that are designed to accommodate slats have holes in regular increments where the slats are to be attached using a bolt and nut. Some wooden frames have notches in the rails that are designed to accommodate slats. If you are using a frame that does not have holes or notches, then use a hook-and-loop fastener or two-sided adhesive tape to hold the slats in place.
Safety
Slats are designed to distribute the weight of the mattress and the people on it to provide safety. When installing slats, always install them based on the manufacturer's instructions. Never leave out slats in a frame construction, and do not install slats that are cracked. If you are installing slats on to rails that originally were built for a box spring, then install slats every 4 inches to get maximum safety.
References
Resources
Writer Bio
George N. Root III began writing professionally in 1985. His publishing credits include a weekly column in the "Lockport Union Sun and Journal" along with the "Spectrum," the "Niagara Falls Gazette," "Tonawanda News," "Watertown Daily News" and the "Buffalo News." Root has a Bachelor of Arts in English from the State University of New York, Buffalo.
Photo Credits
NA/PhotoObjects.net/Getty Images
More Articles