How to Assemble an Antique Metal Bed Frame
Antique metal beds were often made out of brass or cast iron, making them sturdy and able to last for years. Most metal frame bed consisted of a headboard, a footboard and a pair of bed rails that fit into the headboard and foot board.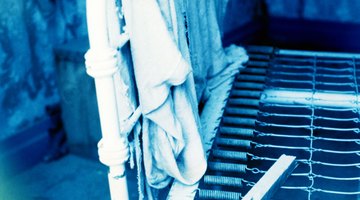 Metal slats or springs go in between the bed rails to offer mattress support, though they're not always necessary if you're using a box spring that fits between the frame rails snug. As long as you have all of the mandatory pieces, assembling an antique metal bed is simple.
Lean the headboard against a wall in the area of the room you want to keep the bed. Hold the headboard so it's standing upright, and slip one of the bed rails into the slot near the bottom of the headboard's left or right leg.

Push the rail into the headboard as far as it will go. Use a hammer to lightly tap the rail to make sure it's in tight. The rail shouldn't move if it's the proper fit. Repeat this process with the other bed rail.

Hold the footboard upright and slip the other side of each of the bed rails into the slots at the bottom legs of the footboard. Push the footboard into the rails as far as it will go. If the bed has metal slats between the rails, the bed construction is complete.

Place the spring frame onto the bed rails if there are no metal slats. Place the mattress on top of the springs.
References
Writer Bio
Hollan Johnson is a freelance writer and contributing editor for many online publications. She has been writing professionally since 2008 and her interests are travel, gardening, sewing and Mac computers. Prior to freelance writing, Johnson taught English in Japan. She has a Bachelor of Arts in linguistics from the University of Las Vegas, Nevada.
Photo Credits
Thinkstock/Comstock/Getty Images
Thinkstock/Comstock/Getty Images
More Articles