How to Fix the Middle Piece on a Bed Frame
Getting a good night's sleep on a regular basis is crucial to your overall well-being. If you are sleep-deprived, you may experience side effects, such as fatigue, irritability, poor concentration and various medical problems. One key to sleeping well is being comfortable as you rest. If the middle piece on your bed frame is broken, missing or not adjusted properly, your mattress may sag and cause you restlessness and physical discomfort.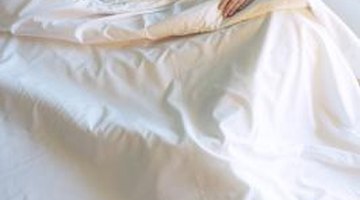 Step 1
Remove the bedding, mattress and box springs from the bed frame.
Step 2
Lower or raise the middle section of the bed if it is too high or too low. Metal bed frames typically have screws that you can adjust by hand to raise or lower a section of the frame.
Step 3
Remove the middle slat if it is broken. This is a common occurrence in beds that have wooden slats running horizontally across the frame for support.
Step 4
Measure the broken slat to determine its length and width.
Step 5
Place another wooden slat of the same dimensions in place of the original slat. Lie the slat across the bed frame so that each end of the slat rests on either side of the frame. You typically do not need to secure the slat in place with hardware since the weight of the box springs and mattress will hold it in place.
Step 6
Replace the box springs, mattress and bedding.
References
Writer Bio
Charlotte Johnson is a musician, teacher and writer with a master's degree in education. She has contributed to a variety of websites, specializing in health, education, the arts, home and garden, animals and parenting.
Photo Credits
Hemera Technologies/AbleStock.com/Getty Images
More Articles