How to Lower Mattress Height
Tall mattresses are synonymous with comfort. The taller the mattress is, the more cushioning there is involved in the mattress's construction, making these products attractive to consumers.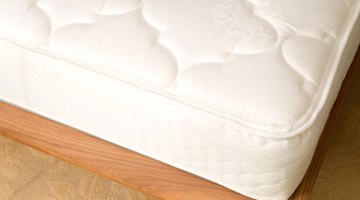 However, tall mattresses are not always comfortable for shorter people; in fact, the bed being too high can sometimes be a liability. For those who want to keep their mattress comfort levels high and vertical levels low, changing out the boxspring or frame are two different ways to lower a tall mattress.
Changing the Boxspring
Remove all bedding and pillows from the bed. Slide the mattress off of the bed frame and turn it on its side.

Remove the boxspring from the bed frame, being careful not to hit any slats or sidepieces of the frame. Dispose of the boxspring or have it hauled away by the company delivering the new boxspring.

Lay the new boxspring directly onto the bed frame.

Replace the mattress on top of the foundation and remake the bed.
Replacing the Bed Frame
Remove all bedding and pillows from the mattress.

Slide the mattress off of the boxspring and bed frame, and lay it on its side.

Lift the boxspring away from the bed frame and set it aside.

Disassemble the bed frame. Remove any slats from the middle of the frame and unscrew connecting joints between the frame pieces, and either dispose of or store the parts.

Assemble the new bed frame in the area where the previous bed frame was located. The new low-profile frame should drop the height of the bed by 3 to 4 inches.

Set the boxspring onto the new frame and set the mattress on top of the boxspring. Make the bed as usual.
Things You Will Need
Low-profile boxspring or bed frame
Screwdriver
Tip
Purchased pre-assembled bed frames or arrange to have the bed frame assembled onsite for you when buying directly from a furniture store.