How Much Weight Can a Toddler Bed Hold?
A toddler bed is a bed that you can use with a crib mattress when your toddler is no longer comfortable in the crib, when you need the crib for another baby or when you simply want to move your child into a "big kid bed." Since most toddler beds can hold up to around 50 pounds, your toddler probably will be able to stay in her new bed for a while.
Convertible Crib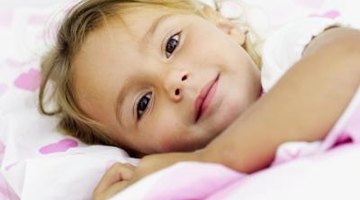 When you purchased your baby's crib, you may have opted for a convertible crib that you can take apart and convert into a toddler bed. To make the conversion, you usually remove one side panel and lower the mattress to its lowest possible position; check with the instructions that came with your specific crib. Some crib makers print the instructions on the bottom of the crib itself, making it far easier to transition.
Traditional Toddler Bed
You can buy a separate toddler bed. They come in a wide variety of materials, from hard plastic to metal to wood. Buy a bed that matches your child's bedroom, or take her along and let her pick out a bed and/or bedding fashioned after a favorite character.
Weight Limit
According to Consumer Reports, most manufacturers of convertible cribs and toddler beds have a weight limit of around 50 pounds. To find the recommended maximum weight of your bed, refer to the instruction manual, check the manufacturer's website or call the company directly. If you are not sure of the make or model of your crib, there is often an identifying mark on the bed with a brand name. Start your search there.
Average Weight of Toddlers
Most toddlers weigh less than 30 pounds by age 2, although there are individual differences based on genetics and diet. By age 3, toddlers weigh an average of 30 to 33 pounds, and by age 4 they weigh an average weight of 35 to 37 pounds. A toddler bed is lower to the floor than a regular bed, which can be safer for your child. However, when your child gets too large for a toddler bed, you can use bed rails to keep him from falling out.
References
Writer Bio
Monica Beyer has been writing professionally since 2000. She is the author of two books on baby sign language, "Baby Talk" and "Teaching Your Baby to Sign." Beyer's writing also appears in various online publications. She holds a Bachelor of Arts in English from Missouri Western State University.
Photo Credits
Stockbyte/Stockbyte/Getty Images
More Articles