What Are the Dimensions of a Baby Bed?
Federal standards require full-size baby beds or cribs for use in a home, childcare facilities and public facilities that accommodate children have interior dimensions that measure 28 5/8 inches wide by 52 3/8 inches long, give or take 5/8 inch on either dimension. Cribs, beds and play yards also must meet additional safety requirements established by the Consumer Product Safety Improvement Act of 2008.
Mattress Size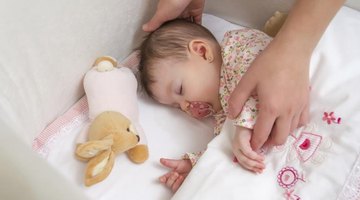 Full-size crib standards require a specific mattress size to keep the baby from becoming trapped or suffocating between the mattress and the crib. Mattresses must not exceed a thickness of 6 inches and must be at least 27 1/4 inches wide and 51 1/4 inches long. The packaging material or the carton the crib comes in, along with the assembly instructions, must contain a statement that advises of these dimensions. Under the federal standard, the statement must be on the crib somewhere as well.
Types of Beds
Besides the standard full-size crib, other beds for babies include cradles, bassinets, baby baskets, play yards and portable cribs. The consumer agency defines non-full-size cribs as those that provide a place for a baby to sleep in the home, during travel, at childcare facilities and all public accommodations for babies. Interior dimensions for non-full-size cribs include widths greater than 30 5/8 inches or smaller than 25 3/8 inches, with interior lengths smaller than 49 3/4 inches or greater than 55 inches. This includes portable beds, unconventionally shaped beds, bassinets, crib pens or playpens. For example, a bassinet's dimensions, which vary by manufacturer, can be 15 to 22 inches wide and 30 to 38 inches long.
Toddler Beds
As a child grows, she usually graduates from a crib to a toddler bed -- a bed frame fit to accept a crib mattress 27-by-51 inches, only without the crib spindles and sides. Toddler beds typically have removable short side rails to protect the child from falling out of bed at night. Once the child adapts to sleeping in the toddler bed, you may remove the side bar rails near the head of the bed. When using a crib mattress inside a toddler bed, verify if fits snugly to prevent entrapment or pinching.
Twin Beds
Twin beds average 38 inches wide and 75 inches long with extra-long twins being 80 inches long. These mattresses fit into bunk beds or full-size twin frames; extra-long mattresses fit without a footboard. They are wide and long enough to accommodate the child as he grows into adulthood, although many teens opt for a full-size mattress for a wider bed width. Junior versions of twin beds average 31 inches but are the same lengths as standard twin mattress sizes.
References
Resources
Writer Bio
As a native Californian, artist, journalist and published author, Laurie Brenner began writing professionally in 1975. She has written for newspapers, magazines, online publications and sites. Brenner graduated from San Diego's Coleman College.
Photo Credits
David Pereiras Villagrá/iStock/Getty Images
More Articles