How to Make a Daybed a Full-Size Bed
A daybed functions as a sofa or couch during the day and as a bed at night. A daybed typically has rails or other decorative trim elements that act like arms and a seat back. A daybed typically uses a twin-size mattress. If you want to have a mattress that's larger than a twin for your daybed, you'll have to modify the frame of the bed. Keep in mind that the only difference between a twin-size mattress and a full-size one is the width, as the length remains the same.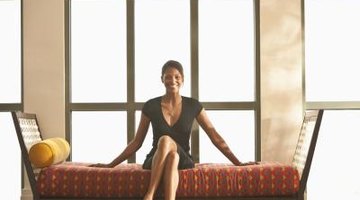 Step 1
Remove the mattress from the bed and examine the construction. Remove the seat back and the arms if the daybed includes those features. Unscrew the arms and back, leaving only the legs and the frame or base for the mattress.
Step 2
Create a frame from four pieces of plywood. Use the two shortest pieces as the top and bottom and the longer pieces on the sides. Screw 2-inch wood screws through the ends of each piece, attaching the wood into a large box or frame.
Step 3
Move the box beside the daybed and line the new frame with the old daybed. Cover the top of the frame with the larger plywood panel. Attach wood screws every 2 inches around the bed, securing the upper surface to the frame.
Step 4
Lay four flat brackets on the original daybed, positioning each bracket so that each sits half on the original bed and half on the new platform. Place one bracket on each end and arrange the two other brackets in the middle. Screw the brackets down with wood screws, which keeps the two bed pieces together.
Step 5
Replace the existing twin mattress with a full mattress. The new platform extends the width of the bed, turning it into a full-size frame. The new bed should be large enough to support a full-size mattress.
References
Writer Bio
Jennifer Eblin has been a full-time freelance writer since 2006. Her work has appeared on several websites, including Tool Box Tales and Zonder. Eblin received a master's degree in historic preservation from the Savannah College of Art and Design.
Photo Credits
Comstock Images/Comstock/Getty Images
More Articles