What Is a French Double Bed?
You may have encountered the term "French double bed" during your travels abroad. Hotel beds in Germany, Switzerland and France may feature this type of bed, which is something with which North Americans may not be familiar. A French double bed is a bed that is bigger than a single, but smaller than a double. Commonly called "un grand lit" in French, the French double bed is another characteristically French item.
Identification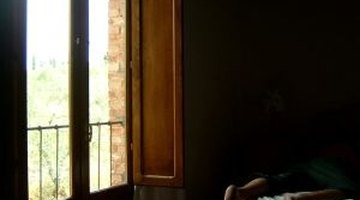 A French bed is smaller than a double bed, measuring 115 cm to 140 cm. It is larger than a twin bed, so a person may fit more comfortably in a french bed. The French bed is meant for a single person, since it may be rather small to fit two people. It is meant to provide a better sleeping experience for the single person, or a cozy experience for a couple.
Design
French double beds can be made of wrought iron material, upholstered wood or dark wood. Bed frames may be elaborate in decor and bigger in size, but it is still considered a French bed if the size of the mattress is within the French double bed size. Many also feature antique-style design, with gold plated metals and warm hues. Headboards and footboards are shaped in curvy fashion.
Costs
French double beds can be expensive, especially when bought in Europe and shipped to the United States. French double beds can range from $300-1500 as of 2009. You may also want to take into consideration the costs of maintenance for the bed, especially those that are upholstered or made with dark wood, since these can be quite costly.
Consideration
Elaborately designed French beds may take up more space in a room than a simple, rectangular bed because of the shape of the headboard and frame. French beds are meant to be the highlight or centerpiece decoration of a room, so when designing a room with a French double bed, consider the amount of space you have, as well as your room decor.
Locations
European properties, such as houses and hotels, may have French beds. In the U.S., a French bed is uncommon, since bigger double beds are more popular. Double beds in the U.S. measure 140 cm to 190 cm. Beyond hotel chains, bed and breakfasts also feature French double beds.
References
Resources
Writer Bio
This article was written by the CareerTrend team, copy edited and fact checked through a multi-point auditing system, in efforts to ensure our readers only receive the best information. To submit your questions or ideas, or to simply learn more about CareerTrend, contact us [here](http://careertrend.com/about-us).
Photo Credits
Sleep, royalty-free image by lenscap
More Articles