How to Use a Mattress as Decor for a Living Room
Using a mattress as decor in a living room can be tough, but homemakers know they have to make the best hand from the cards they're dealt. Sometimes budget restrictions provide only enough money to live in a studio apartment, you have to sleep in your living room because you and your roommate share a one-bedroom apartment, or you need a place for overnight guests. Whatever your situation, there are ways to make sleeping quarters complement the overall decor of your living room.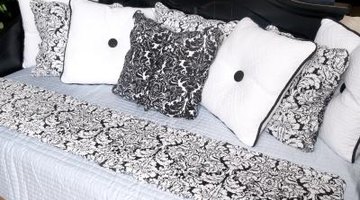 Make the mattress a part of your furniture. Twin-size mattresses can be used to simulate a couch if you use it as a futon or daybed cushion. This way it can be used as a sofa during the day and comfortable place for you or a guest to sleep during the night. You can also buy a futon or daybed that comes with its own mattress; these are typically thinner than conventional twin mattresses and easier to maneuver.

Build a lofted area for your mattress. If you live in a studio apartment, building a lofted space for your bed doubles the functional space of your living environment. You can sleep at the top of the lofted area and use the space underneath as a makeshift office/ artist space. Not only that, but the height of the loft, and the fact that eyes will be drawn to your bed at the top, will make your ceilings seem higher than they actually are and make your living space seem larger.

Camouflage your bed. Your mattress doesn't have to look like a mattress; you can use it to enhance the theme and decor that exists in your living room. If you sleep on the mattress, cover it with comfortable sheets then hide the sheets with a fashionable mattress topper. Purchase a cover with a texture that's nice to touch and visually appealing, such as suede, leather or a cotton blend. Pick a shade that complements the color scheme flowing through the room. Purchase throw pillows in patterns and textures that further enhance the theme.

Use the space underneath the mattress for storage. If the mattress is sitting atop a frame, cinder blocks or some other type of lift, purchase plastic storage containers and use the area under the mattress for storage of items like magazines, games, out-of-season clothing, shoes and other accessories, books and other items. Using the storage area underneath will free up other space in your apartment to decrease clutter and improve the overall decor.
References
Writer Bio
Oubria Tronshaw specializes in topics related to parenting and business. She received a Bachelor of Arts in creative writing from the Santa Fe University of Art and Design, and a Master of Fine Arts in creative writing from Chicago State University. She currently teaches English at Harper Community College in the Chicago area.
Photo Credits
Jupiterimages/Photos.com/Getty Images
More Articles