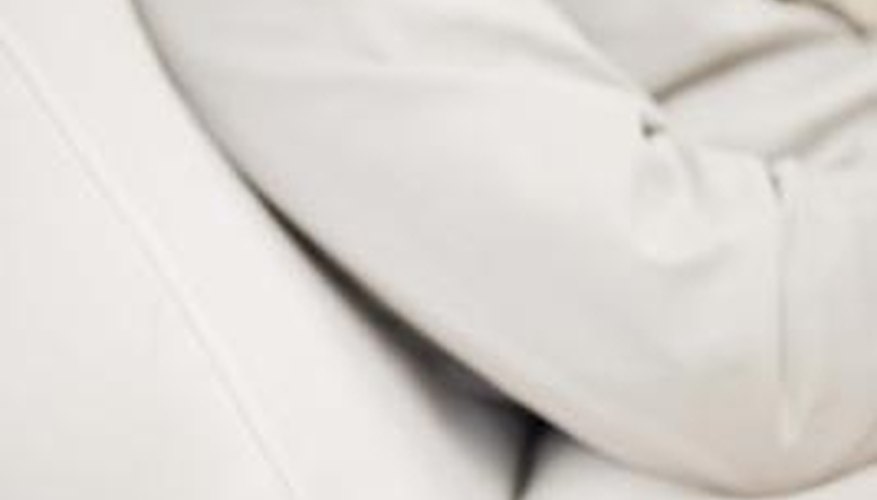 Many non-conventional items can be used to make a comfortable headboard for the bed, including an old sofa. This offers several advantages. For one, it comes with a ready supply of pillows and cushions. Using a sofa as a headboard also extends the area in bed in which you can sit up. Once the bed is put together, it can be made just like a conventional bed.
Get a bed frame plus an appropriately sized box springs and mattress. You want the kind of frame with just the metal frame and wheels. Lock the wheels into place.
Push the sofa up against the wall so that the back is completely touching the wall. The length of the couch should be as wide as the bed. Take the cushions from the sofa off so that the area underneath which houses the springs show.
Position the bed frame directly against the front of the couch. Lock the wheels so that the bed doesn't slide away from the couch when you move.
Place the box springs on the frame.
Lay a piece of foam rubber on the couch, ensuring that the whole box springs area is covered. Tuck in the foam rubber; you should have some space at the ends by the arms and at the back of the couch. This will protect the material.
Get your piece of paneling and lay it so that it's positioned on the seat of the couch and on the box springs. You want a fairly thick and sturdy piece of paneling; a piece of board will also work. The paneling will serve to keep the bed together and will provide a sturdy place on which to place cushions so that you can sit up in bed.
Place another thicker piece of foam rubber on the couch. You want this to be at least 6-inches thick. Once the sofa cushions are back on the couch, the foam rubber will ensure that the bed and the cushions are the same height.
Put the cushions back on the couch and wrap them in a flat sheet. Tuck the ends of the sheet into the sides of the sofa.
Move the mattress onto the bed.
Make the bed, using decorative pillows as additional props for your back. Mix and match an assortment of pillows in different sizes and types. This will give you a comfortable area to sit against and help the bed look pulled together. Remember that in addition to bed pillows you can also use the couch cushions as part of the display.
Things You Will Need

Bed frame and mattresses
Sofa
Foam rubber, varying sizes
Bedding