Different Ways to Cover a Couch
Couches are vulnerable to abuse due to years of use, but can be protected through couch covers. From cloth covers to pliable plastic, couch covers vary in the level of protection against spills and other other common stains. While the old-fashioned method of covering your couch involved the use of gaudy plastic, current couch covers are available in a variety of fabrics to complement the decor of your home.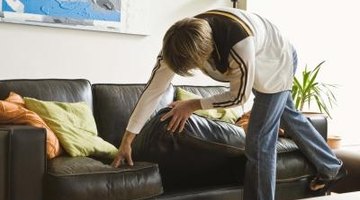 Purchase a slipcover. Couch manufacturers often offer a custom slipcover for your couch and it is usually available at the furniture store or directly from the manufacturer. Purchased slipcovers tend to start at $100 in 2011, depending on the size of the couch and the fabric option.

Make your own cover. If you're crafty, making your own slipcover for the couch is an alternative to purchasing a ready-made cover. Measure the length of the couch from one side of the couch to the opposite end, and measure the width from the bottom of the front of the couch to the bottom of the back of the couch. Leave 2 to 3 inches of additional fabric for the width to allow fabric to be pushed down between the cushions. Staple the ends of the fabric at the bottom of the couch to secure the slipcover.

Use bed sheets. Bed sheets that are one to two sizes larger than your couch are ideal for covering the couch, and they are a cheap alternative to purchasing a new slipcover. Place the bed sheet over the couch, and tuck it into the cushions to form the sheet to shape of the couch.

Create a makeshift cover. A clean towel is suitable to protect areas of the couch your pet tends to use as its bed and can easily be thrown in the washer when it becomes soiled. Hang the towel over the arm of your couch if your pet has a habit of jumping from the couch to the floor.
References
"Apartment Therapy: The Eight-Step Home Cure"; Maxwell Gillingham-Ryan; 2006
Photo Credits
Jupiterimages/BananaStock/Getty Images
More Articles