What Can I Do If I Have No Headboard for My Bed?
A headboard adds more than just aesthetic appeal to a bed. It provides back support and acts as a buffer against a cold wall. If your bed doesn't have a headboard, several solutions to this problem exist. These will provide you with the decorative look as well as the back support that you desire.
No Headboard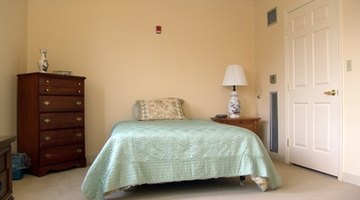 Some beds only consist of a mattress and box springs plus a metal frame---(and sometimes they don't even have the frame). This doesn't need to be an issue; it's fine to have a bed without a headboard. If this is the case for you, plenty of pillows provide a simple solution to a lack of a bed headboard. Start with your pillows that you sleep on and then begin building upon them by adding some decorative throw pillows of different sizes. Add in pillows in matching or contrasting shams, used "for show," and a reading pillow, which is the kind of pillow that has a tall back and arm rests (sometimes referred to as a husband pillow). The pillows will support your back and protect it from the cold.
Unconventional Substitutes
According to Apartment Therapy, photographer Ashley Ann created a headboard from an old door when she made a bed for her daughter. This crafty mom simply rested the door between the wall and the mattress. Unconventional substitutes like this one provide a quick solution to the no-headboard problem, and can be painted or upholstered for a more authentic look.
Homemade
If you have the skills, making a headboard is an option. Many do-it-yourself headboard projects require just a few materials like a piece of chipboard, foam padding, fabric and upholstery tacks or staple gun. To get started, buy a piece of wood that fits the length of your bed. Lay the board on the floor and place the padding on top of the board; you may want to tape down the edges of the padding so that it adheres to the wood. Do this on all sides of the wood. Place the material on top of the padding and tack it down to the padding and the wood with craft tacks and a hammer. Fasten it to the bed using flush mounts. (See Resource 2 for a more detailed description of this process).
Bookcase
If you're a person who likes to read, consider using a bookcase for your headboard. Push the bookcase up against the wall and shove the bed up against the front of the bookcase---some of the lower shelves will be covered by the bed and can be used for storage purposes. Use pillows---especially the reading pillow for back support when you're sitting up.
References
Resources
Writer Bio
Buffy Naillon has worked in the media industry since 1999, contributing to Germany's "Der Spiegel" magazine and various websites. She received a bachelor's degree in German from Boise State University. Naillon also attended New York University and participated in the foreign exchange program at Germany's Saarland University. She is completing her master's degree in educational technology at Boise State.
Photo Credits
More Articles