How to Make an Adult Crib
An adult crib is much like a baby crib, but for adults. It is usually an attachment to an existing bed. Adult cribs are used for the elderly, mental patients and people with unique health conditions. The crib is designed to keep the person from falling out of bed. The crib can easily be constructed by using premade crib walls. This type of crib is not designed to for restraint, but rather for safety.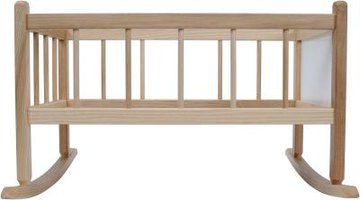 Step 1
Measure the length of the bed.
Step 2
Purchase enough crib panels to equal one whole length and one-half to three-fourths the length of the other side. The panels should extend about 2 feet above the mattress.
Step 3
Use a drill to drill the crib panel into the frame of the bed. Insert a screw every 4 inches. This will ensure a strong crib wall. The screw should be at least 1 1/2 inches in length. The thickness of the crib panel and frame should give you rough estimate of what size screws to use.
Step 4
Attach crib panels all along the side of the bed that won't be used for entry or exit, from headboard to foot board.
Step 5
Attach crib panels to the other side of the bed in the same manner. Do not attach crib panels the whole way down. Stop between one-half and three-fourths of the way down. This will be the opening for the person to enter and exit the bed. The opening should be large enough for the person to comfortably, safely and easily access the bed.
References
"Furniture You Can Build: Projects That Hone Your Skills"; Joe Hurst-Wajszczuk; 2006
"Beds and Bedroom Furniture"; Fine Woodworking Editors; 1997
Writer Bio
Erick Kristian began writing professionally in 2008. He has a strong background in business and extensive experience writing fiction and articles related to spirituality and self improvement which are published on growingeveryday.com. Kristian has written several screenplays, produced numerous films, published books and written numerous articles on a variety of subjects. He holds a Bachelor of Business Administration from Schulich School of Business.
Photo Credits
Zedcor Wholly Owned/PhotoObjects.net/Getty Images
More Articles