How to Decorate With a Maroon Sofa
The sofa is the centerpiece of a living room or family room, so choosing a decorative style that complements this large piece of furniture is a must. A maroon sofa, in particular, will stand out in a room more than a neutral shade, so choosing pieces that complement it is necessary. Even with a bold sofa color, you can incorporate other colors in the room in an aesthetically pleasing way.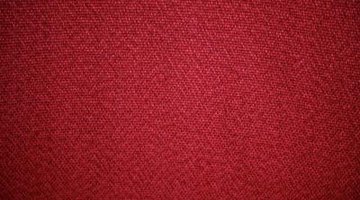 Step 1
Add some dimension to the sofa with throw pillows. Choose solid-colored pillows in complementary shades or in neutrals, including taupe, beige and chocolate brown. Warmer tones, including burnt orange and gold, also pair well with maroon. Or, select pillows with a pattern featuring these shades.
Step 2
Scatter home accents with maroon touches around the room. A maroon pillar candle on a bookshelf, a vase full of rich maroon flowers or a lamp with a maroon lampshade brings out the maroon in the sofa without being too monochromatic and overpowering.
Step 3
Hang window treatments in a rich patterned fabric that features maroon. Alternatively, if your room is dark, choose a light neutral curtain, such as ivory or taupe, with maroon in the pattern. Or, go for a solid neutral curtain, which pairs well with the maroon sofa.
Step 4
Add furniture in accent colors. You don't want all of your furniture to be maroon. Instead, include a chocolate brown or taupe chair and rich wood end tables. This mix-and-match look helps your maroon sofa blend in without overpowering the room.
Step 5
Paint the walls a neutral shade. Avoid too much color by choosing a soft gold, light taupe or ivory for your walls. Keep the focus on your richly hued sofa; a competing shade on the walls will be too distracting.
Step 6
Place a patterned area rug on the floor. Whether you have carpet or hardwood floors, an area rug underneath your maroon sofa can complement it. Look for a rug with touches of maroon, which will stand out as it sits under the sofa of the same shade.
References
Writer Bio
Barbie Carpenter worked as a technical writer and editor in the defense industry for six years. She also served as a newspaper feature page editor and nationally syndicated columnist for the Hearst Corp. Carpenter holds a Bachelor of Science in journalism from the University of Florida and a graduate certificate in professional writing from the University of Central Florida.
Photo Credits
Jupiterimages/Photos.com/Getty Images
More Articles