How to Match Rugs With Drapes
Matching everything in an entire room is an uninspired decor fail. But a hodgepodge of mixed-up everything is just chaos. The happy medium requires some coordination among colors at every height in the space. Pull curtain colors from the rug pattern or match the dominant carpet color with the stately ceiling-to-floor drapes to create order and harmony in the room.
Areas of Agreement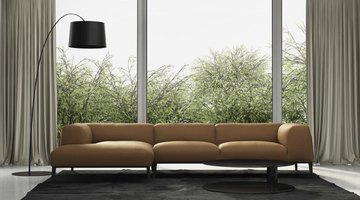 Layered carpet allows you to choose how to add the emphasis of coordinated curtains. A floor covered in sea grass mat with brightly woven area rugs might inspire curtains in a rough-weave natural hemp or lined straw-colored linen. But a livelier look happens when the blue-and-white striped dhurrie rug is mirrored by blue-and-white striped floor-length drapes -- or the small kilim rug in front of the sofa is patterned in the forest-green and deep red of the plaid curtains.
The Same, but Subtle
The rug is a soft, aged harmony of faded fibers -- pinks, lavenders, light greens and blues -- anchoring the conversation area in front of the picture window. Pick up one of the non-dominant rug colors for the curtains -- an unusual pale jade or a sun-blasted red to a rich pink. Choosing a reticent color from the carpet for the curtains is a subtle, but effective way to pull the decor together. A graphically patterned rug looks better against solid-color matching curtains, but a small repetitive pattern in curtain fabric, like pale paisley or dots, appears almost solid and can add a hint of visual texture to the room.
Mix Your Matches
Stick with a simple palette -- few colors -- to link curtains and carpet. Black-and-white is always distinctive and could be stunning with boldly striped drapes and a swirling abstract area rug. A tawny gold-and-brown faux tiger rug matches drapes in a cream and tawny gold tiger-striped pattern. The elegant floral Aubusson in an exuberant sitting room is writ large in an oversize floral curtain fabric designed with big contemporary blooms in the same colors as the more delicate flowers in the rug. The almost match of curtains and carpets selected from the same color family conveys a soothing symmetry on walls and floor -- an over-dyed deep pink carpet flanked by rich raw silk curtains two or three shades darker.
Domesticate the Diva
You indulged in that attention-grabbing area rug and now it threatens to take over the room. Tame it with smart decor choices that include a little scene-stealing by the curtains. A raised pile apricot and orange mosaic-figured rug with a white background is starkly vivid. Floor-length drapes in vertical panels of the same orange and apricot, lined in white, keep the clean color brightness and pull the eye away from the floor. Geometric blocks of analogous color -- hues next to each other on the color wheel -- could make the rest of the room disappear. Use the curtains to affirm, but subdue, the stand-out floor by selecting one color to emphasize -- with a turquoise, emerald and lime rug, pick curtains in solid turquoise and keep furnishings low-key.
References
Resources
Writer Bio
Benna Crawford has been a journalist and New York-based writer since 1997. Her work has appeared in USA Today, the San Francisco Chronicle, The New York Times, and in professional journals and trade publications. Crawford has a degree in theater, is a certified Prana Yoga instructor, and writes about fitness, performing and decorative arts, culture, sports, business and education .
Photo Credits
mihalis_a/iStock/Getty Images
More Articles