What Floor Tile Should Be Used With Blue Pearl Granite?
If your kitchen, bathroom or living area has blue pearl granite as part of its design, your floor tile must complement the blue color. Since blue pearl granite has specks of other colors in its composition, you can select one of those accent colors as a coordinating floor tile color.
White Ceramic Tile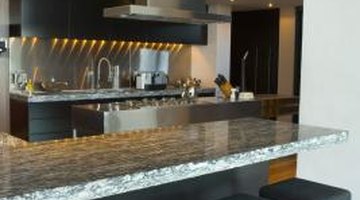 Blue pearl granite is an attention-grabbing decorative material used primarily in the construction of kitchen or bathroom countertops. Install neutral white ceramic floor tile to complement blue granite. Blue and white are often paired together in English dish patterns and make a room feel fresh and cool. Ceramic tile is a common bathroom floor material because it has water-resistant qualities.
Beige Porcelain Tile
Pearl characteristics in blue granite coordinate with beige, off-white or eggshell porcelain tiles. The creamy hues in blue pearl granite soften the blue tint, making beige tile an amicable floor option. Porcelain tile is a sturdy floor material because it holds up well over time and is difficult to break or crack.
Stone Tile
Granite and stone are similar materials that blend together and create a contemporary room design. Select stone tile with a dominant color that matches one of the color specks in your pearl blue granite. Opt for light-colored stone to avoid shrinking the appearance of the size of the room. Stone tile is a strong material and requires little cleaning or maintenance.
Light Gray Slate Tile
Blue and gray fall into the same spectrum on the color wheel, so they complement each other as interior design colors. Choose a light gray slate tile for your flooring if you want your room to have a seascape motif. Slate tile has a modern appeal, so brushed nickel or silver metallic hardware and coordinating light fixtures add beauty to the room's overall appeal. Choose light-colored slate tile, and avoid tile that has black or deep gray undertones.
References
Writer Bio
As curriculum developer and educator, Kristine Tucker has enjoyed the plethora of English assignments she's read (and graded!) over the years. Her experiences as vice-president of an energy consulting firm have given her the opportunity to explore business writing and HR. Tucker has a BA and holds Ohio teaching credentials.
Photo Credits
Goodshoot/Goodshoot/Getty Images
More Articles