Spanish-Style Shades and Curtains
Between 1500 and the late 1800s, Spanish window treatments were usually made of small bits of cloth that covered the windows. However, in wealthy Spanish villas, expensive draped fabrics were sometimes used over windows instead. There are quite a few different choices for Spanish-style curtains and shades. Adding a curtain or shade that matches with the theme of the room will tie the entire look together.
Elements of Spanish Design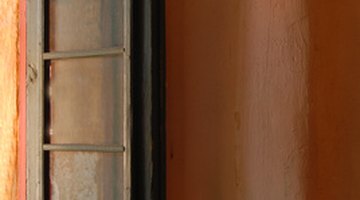 Spanish design is similar in style to Mediterranean design. However, Spanish design focuses more on earth tones and bright patterns. Most Spanish decorating and design is simplistic in nature. Mission style is another name for the Spanish decorating style. Rustic wood, iron accents, bold colored walls and minimal window treatments make up the basic elements of Spanish design. Floors are usually brick, ceramic or wood.
Colors
There are many colors that you can use for your Spanish-inspired curtains. Rich earthy tones, such as brownish orange, deep mustard, chocolate brown and brick red are all colors that fit in well with Spanish-style window dressings. You can also use a basic white curtain or a wood-colored shade to treat your window. If you want to bring in a brighter color into the room, choose cheery yellows or bright blues, which are part of traditional Spanish coastal decor.
Shades
Window shades are not typically part of traditional Spanish window treatments. However, modern homes often require the privacy of blinds or shades. If you determine that you should have a shade covering the window, for privacy or for sun protection, choose a shade that is brown or has a wood pattern. Wooden slat shades that mimic the appearance of shutters fit in well with Spanish décor. Many homes in Spain cover their windows with shutters for privacy.
Curtains
There are many curtain options to choose from with Spanish design. Depending on the room, you might choose short, breezy white curtains or heavier, longer, dark curtains. Solid colors are best, but a floral or tapestry pattern can also fit in with the Spanish theme. Consider draping a swag over the top of the window. This will enhance the window but also keeps the simplistic look that signifies Spanish style.
Window Accents
Traditional Spanish curtains are usually hung with narrow iron or black curtain rods. Simplicity is a large part of Spanish decorating and the curtain rods should reflect this simple style. Choose rods that are small and unobtrusive, rather than rods that are intricate and large. You can also use wooden curtain rods for a similar look. Try to match the window accents with furniture or accents found in the rest of the room. This will produce a more cohesive appearance in the room.
References
Writer Bio
Brenda Priddy has more than 10 years of crafting and design experience, as well as more than six years of professional writing experience. Her work appears in online publications such as Donna Rae at Home, Five Minutes for Going Green and Daily Mayo. Priddy also writes for Archstone Business Solutions and holds an Associate of Arts in English from McLennan Community College.
Photo Credits
open window in the mission of santa barbara image by David Smith from Fotolia.com
More Articles