Curtain Ideas for 1950s Horizontal Narrow Windows
The 1950s and 1960s saw a boom in suburban housing that often featured tract-style ranches with narrow, horizontal windows that kept construction costs low. These windows, however, became the bane of home decorators because of the limited options for curtains and other materials. Today, many more materials are available to open up the range of curtain ideas for these unusual window shapes.
Decorative Blinds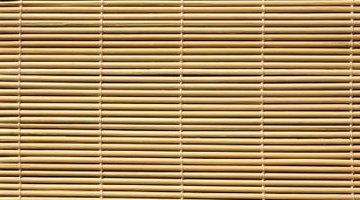 When 1950s houses were built, only a limited number of window-blind types were available. The 2-inch metal Venetian blinds were the order of the day, and many people still use these for a retro look for their '50s-style home, according to the Retrorenovation website. Many other types of blinds are on the market, however, such as tiny 1/2-inch blinds, textured materials and wood blinds in a range of colors and sizes that can be custom-fit to narrow, horizontal windows.
A Range of Window Shades
Bamboo shades can give an older '50s-style home an updated look that allows for more contemporary room décor. Roman shades offer another option, for a more tailored, formal look. Shades can be lowered or raised as needed and still provide a decorative note for the room.
Decorative Shutters
Another look that can give charm and individuality to a room with '50s-style narrow windows is wooden shutters. Shutters can be custom-made to fit these unusual sizes of windows. Generally, several sets of shutters are installed side-by-side to cover long, horizontal areas. These shutters can be opened to bring sunlight into the room or closed for complete privacy at night.
Cafe Curtains
Short café curtains are one of the common ideas used for narrow, horizontal windows. Café curtains are a widely available, inexpensive option. They come in a wide range of colors, materials and sizes to fit any window. Often, the valance is installed on a rod slightly above the actual window to make it look taller than it actually is. These curtains are often made of easy-care fabrics that can easily be washed and dried.
Drapes
Draping '50s-style horizontal windows can be a challenge. Some decorators opt for short, custom-made draw drapes. Others like the look of short drapes with longer panels at the sides used as a sort of "frame" for unique pieces of furniture that fit under the windows. This technique can make special pieces the focal point for the room. Another method covers the whole wall with draw drapes. This provides a more dramatic effect for the room that gives the illusion of more window area when the drapes are closed. The drapes can be opened for the daylight hours to bring in light, and stay in neat panels at the ends of the windows.