How to Give Windows Privacy Without Blinds
Windows sometimes leave a room vulnerable to prying eyes and public display. To ensure privacy, the windows should be covered. While blinds are one method, sometimes it is not possible or attractive to use them.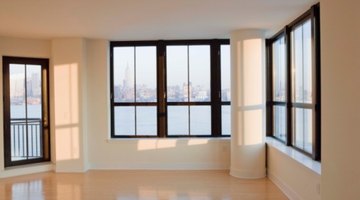 Odd window configurations or difficult frame material require homeowners or decorators to be creative to give windows privacy without blinds. Measure the window and determine whether any type of hardware can be mounted in or around the frame. Consider the options for covering windows.
Things You Will Need
Metal tape measure
Window
Window treatments (optional)
Shrubs or window boxes (optional)
Tall furniture (optional)
Tip
For houses or buildings that are unoccupied for long periods of time, consider boarding up windows or covering with sheets over curtain rods for added security.
Install curtains or draperies on the window. Sheers allow light in while distorting the view. Draperies extend below the windowsill and are drawn for privacy. Curtains are lighter, thinner and shorter than drapes, but still effective.

Plant a shrub outside a ground-level window. Use an evergreen variety to provide year-round leaves that provide additional privacy. Trim and maintain as needed.

Place shutters on the inside or outside of the window to eliminate a view of the room. These may be opened or shut at will and block light well when closed.

Mount outdoor retractable awnings to cover the window, provide privacy and block sunlight as needed. These can be motorized or hand cranked. Some models include a remote control device for easy maneuvering from indoors.

Move a large piece of furniture in front of the window. Cover its view completely, ensuring it cannot be seen from inside the room.

Put up an indoor wooden privacy screen. This is ideal for bay windows or odd-sized openings with a ledge. You can also design one for a custom fit. Stain or paint it to match the window trim or furniture.

Create and attach window boxes to the outside of a short window. Arrange tall flowering plants or ones with bushy leaves to obstruct a view inside.

Use a wooden cornice board to match the room's décor. Paint the slats for added color or cover it with batting and fabric to coordinate with the furniture.

Apply an opaque film to the window glass to obscure a view from outside. These films can mimic the look of frosted or stained glass, and are available in many craft stores.
References
Resources
Writer Bio
A former community newspaper reporter, columnist and photojournalist in Virginia, MJ Knoblock holds a bachelor's degree in journalism and has been writing for more than 20 years.
Photo Credits
Jupiterimages/Creatas/Getty Images
Jupiterimages/Creatas/Getty Images
More Articles