How to Close Off a Loft
A loft is an openly visible area in your home where the room at the top of the stairs is open to the rooms below. You can close off the gaping open space in a loft to provide increased privacy for a home office or bedroom.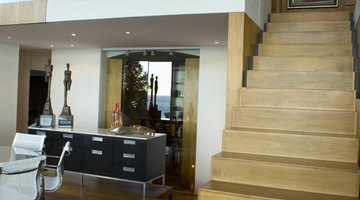 Choose a portable wall design with complementary hues and textures to enhance your existing decorating style and color scheme
Things You Will Need
Folding screens
Curtain track
Draperies
Decorative bead or shell strands
Furniture
Tip
Build a permanent floor-to-ceiling wall to completely shut off the loft from the space below. If you don't feel comfortable tackling the job yourself, acquire a professional to do all or part of the wall construction.
Place one or more folding screens in your loft to provide a visual wall between the open loft area and the room below. Paneled screens are available in a wide variety of styles, colors and designs, so select a screen to complement your existing decor. The Asian-inspired Shoji screen is an enduring favorite, and is constructed with rice paper panels fitted onto a decorative frame. The translucent rice paper panels allow light to filter through the screen, while providing limited privacy. Because folding screens are portable, you can easily fold and store them in a closet when you desire an open-loft atmosphere.

Install a ceiling curtain track outfitted with floor-to-ceiling drapes to provide visual privacy to almost any loft area. Use draperies with an attractive appearance on both the front and back sides, or hang two sets of drapery panels back-to-back to offer a different look for the loft area and the space below. Pull the drapes wide open when you prefer a more spacious ambiance. Hang strings of beads or shells from the ceiling in lieu of draperies for decorative appeal with some visual privacy.

Situate large pieces of furniture between the loft and open area below to supply a partial visual partition. Line up one or more towering bookcases to create a decorative furniture wall for the rooms below your loft, as well as supplying a functional piece for storing books and displaying collectibles in the loft area. Alternatively, opt for an open-shelving unit, two-sided bookcase or oversize armoire instead of the bookcase. Flank the divider furniture pieces with potted floor plants to add visual interest to your faux wall.
References
Writer Bio
Janece Bass is a freelance writer specializing in weddings, family, health, parenting, relationships, dating, decorating, travel, music and sports. She has been writing for more than 15 years and has numerous published pieces on various websites and blogs. Bass has also ghostwritten various fiction-based novels.
Photo Credits
Goodshoot/Goodshoot/Getty Images
Goodshoot/Goodshoot/Getty Images
More Articles