How to Convert a Small Bedroom into a Media Room
With fast-and-furious technological advances in electronics such as high-definition television, digital sound, wi-fi, and even 3-D television, it is possible to get professional-quality audio and video from your home electronics. Now you want to enjoy the benefits of these advances in the best atmosphere you can create. If your home does not have a dedicated media room, you can turn a spare bedroom into a cozy cave that will raise your TV, gaming or music experience to a higher level.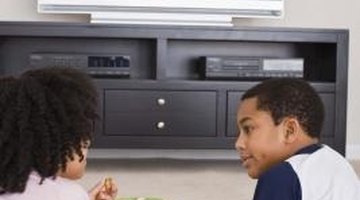 Choose your room. Perhaps you already have designated a particular bedroom to be your media room. If you have options, use a rectangular room. Choose a room that has as few doors and windows as possible, and wall-to-wall carpeting. Keep location in mind. A media room next to the baby's room might not be a good idea, as loud movies, music or games could disturb a sleeping child.

Clear everything out of the chosen room. Because the room is small and will quickly fill up with audio-visual equipment and theater furniture, it should as free as possible of items that are not needed in a media room. Clear out the closet. The media room closet can be used to store movies, music and video games, and possibly even to hide components and wiring.

Install a dimmer switch for the room's lighting. The dimmer switch will allow you to keep a low level of light in the room during movies and games. While a dark room reduces glare on the TV screen, a small amount of light in the room will help keep your eyes from becoming strained. If the room's light fixture hangs directly above the TV, move it to the back of the room.

Place area rugs on the floor if there is no wall-to-wall carpet. Not only are carpets and rugs more cozy and comfortable, they also help insulate the room for sound, providing better acoustics.

Set up your audio-visual components. If possible, place the TV on one of the shorter walls, which will give you as much depth as possible to use for seating. Depending on the room's design, you may be able to place your TV on a wall shared with the closet, allowing you to hide some wiring and components from view. An entertainment wall or shelving unit provides ample storage for your TV, stereo, speakers, books and movies, while keeping your room looking neat and clean.

Set up your seating. Place home-theater recliners in rows directly facing the TV. A rule of thumb is to measure the width of your TV, and double that number to arrive at the distance your first row of chairs should be from your TV. Do not angle the seating in relation to the TV, as this would cause viewers to turn their heads for prolonged periods. Place as many chairs as will comfortably fit in your room. Home-theater chairs are often equipped with built-in cup holders. If yours are not, consider adding a small table for snacks and drinks either between or in front of your chairs. Place a second row of chairs behind the first if you have the room and the budget.

Hang curtains over windows to block out light and noise. Special black-out curtains are easily found at many homegoods retailers and are very effective at blocking out almost all light. Curtains will also help soundproof the room and improve its acoustics.
References
Tips
Although a new coat of paint is not mandatory, you may wish to paint your room a dark, cozy color, or the colors of your favorite sports team.
If your new media room lets enough sound out to be bothersome to others in your home, consider adding soundproofing curtains or soundproofing tiles to the walls. Either of these items will help considerably to contain noise.
Decorate your media room's walls with framed movie posters, sports memorabilia or other artwork. Not only will artwork on the walls give your room a professionally decorated look, it will also help absorb sound and improve acoustics in your room.
Writer Bio
Sandra Rousseau has been writing since 1990, covering such topics as home decorating, fashion, health, beauty, gardening and cooking. Her articles appear her hometown newspaper, the "Aledo Community News," and on various websites. Rousseau holds a Bachelor of Arts in journalism and advertising from the University of Texas at Arlington.
Photo Credits
Jupiterimages/Comstock/Getty Images
More Articles