How to Make a Spare Bedroom into a TV Room
An empty bedroom doesn't have to be wasted space. If a family member moved out or you have a spare bedroom rarely used by guests, you can create a designated TV watching room, with all the comforts and amenities needed to increase your family's enjoyment. As a spot for the whole family to enjoy a movie together, a retreat for your teens to play video games with their friends, or a spot for the younger kids to watch their favorite Disney video, a spare room converted to a TV room will provide entertainment for the whole family.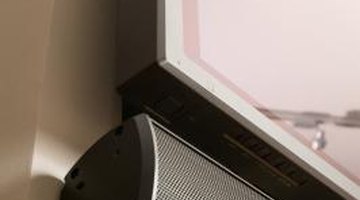 Step 1
Remove all unnecessary furniture and clutter. Repaint the room if necessary, and cover the floor with carpeting or a thick rug to avoid an echo.
Step 2
Install a ceiling light that can be dimmed, and smaller lighting that can be be turned on and off with a remote control.
Step 3
Cover the windows with blinds or curtains that will block out light for best daytime viewing. There are curtains with blackout lining that will completely darken the room even during daylight.
Step 4
Mount a big-screen TV on the room's largest wall. Set up speakers around the room for a surround-sound feel.
Step 5
Place a large, comfortable sofa facing the TV. Provide other seating, including large cushions for lounging on the floor. If you have teens or kids who love gaming, video game chairs with built-in sound and rocking bases will be much appreciated.
Step 6
Have a table available for holding drinks and snacks. Baskets or boxes can be used to hold remote controls when not in use.
Step 7
Use a cabinet with doors, or a media storage unit, to hold video games, DVDs and other entertainment supplies. Measure the room's closet, and purchase units to fit inside to save space.
Step 8
Hide wires with molded covers designed specifically for managing and covering cables. There are numerous designs at home improvement centers that will cover up unsightly wires, and make them easy to access when needed.
References
Tips
Keep snacks handy. A small refrigerator can easily be plugged into a corner of the room to keep cold drinks available. Popcorn and other snacks can be stored in a plastic bin in the closet.
Writer Bio
Living in California, Michelle Ullman is a professional writer with particular expertise in home, garden and pet/nature topics. Her work is published on many websites. She loves crafts and has a deep interest in design and DIY projects.
Photo Credits
Jupiterimages/Photos.com/Getty Images
More Articles